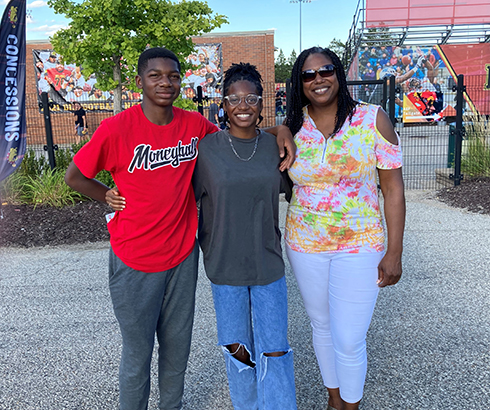 Kori Randle (center), an elite AAU track athlete, joins with family members for the Ferris State football season opener against Central Washington Thursday, Sept. 1. Her grandfather Corey Bouyer, an all-time great Ferris athlete, was an honorary captain for the contest.

Balmy conditions for a late summer evening greeted Ferris State University fans Thursday, Sept. 1, as they filled parking lots near Top Taggart Field before the Bulldog football team's season-opening game against the Central Washington Wildcats.
Kori Randle, of Raleigh, North Carolina, was anticipating the coin toss for the game. Her grandfather, Corey Bouyer, fondly remembered by many as the greatest athlete in Ferris history, was honorary captain. Bouyer played defensive back on Ferris' first undefeated football team in 1968. He also won National Association of Intercollegiate Athletics All-American honors and titles in track and field. Kori is an elite track and field athlete, finishing runner-up in the long jump for her age group at the 2022 AAU Junior Olympics.
"I never really asked my grandfather about his competitions at Ferris, but he would talk about it from time to time," Randle said. "I am glad to be here today. The weather is comfortable, but your winters are too cold."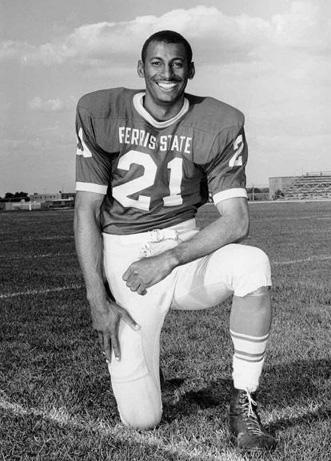 Corey Bouyer

There were 20 members of Corey Bouyer's family at the game to see him honored. He earned two Associate of Applied Science degrees in Automotive disciplines and a Bachelor of Science Technical Education degree from Ferris in 1973.
A prolific power back for Bulldog football teams in the 1970s, Jerome Metz, of Alger, joined former teammates outside Top Taggart Field. Metz graduated from the College of Business in 1981 and now enjoys retirement with his wife, Judy, following a career in sales. Their son, Jonathan, also lettered at Ferris in football in the last decade as a special teams player, a point of pride for the family.
"He was roommates with Zach Seiler, who is now in the NFL with the Miami Dolphins," Metz said. "I hope they realize they are part of a phenomenal brotherhood because I look across the lot and see classmates like John Sontag, my teammates Steve Duchon and Rod Grandberry, just so many guys who played in our era."
Metz made his pilgrimages to Top Taggart Field from as far away as the Illinois-Iowa border in his younger years.
"I got to Ferris games as much as possible each year since my playing days, sometimes just one game or a handful. Now that I am retired, it is much easier. Judy and I plan to go to North Carolina for the Lenoir-Rhyne game next week."
Caleb Valk, of Mason, a second-year Ferris student in General Studies, was searching for a group of friends in the active tailgate area before the contest. Valk said he was expecting a great game.
"I started following Ferris football before I got here, during the 2018 season," Valk said. "Now that I am a student, I really like tailgating, then being at the game."
An announced crowd of 7,101 saw Ferris win its 39th consecutive regular season game as the Bulldogs outpaced Central Washington, 36-20.