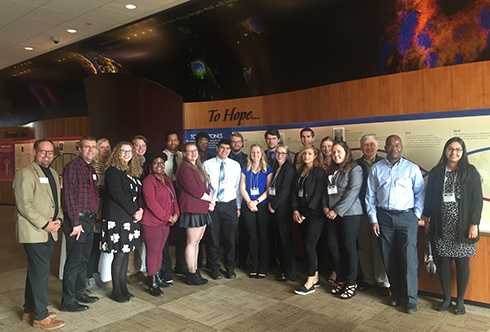 Student Research Fellows and other Ferris State University students will be given tribute for their works on Friday, Sept. 16, as the Office of Research and Sponsored Programs offers the 2022 Student Research and Creative Activities Celebration in the David L. Eisler Center, from 10 a.m. to 1 p.m.

Current students and recent Ferris State University graduates will present their research and creative work on Friday, Sept. 16, as the Office of Research and Sponsored Programs celebrates their participation in the 2022 Student Research Fellowship program.
ORSP Director Thomas Dowling said brief presentations with question-and-answer sessions will begin at 10 a.m. in the Founders' Room of the David L. Eisler Center. He expects the diverse 2022 student cohort will report on projects ranging from Physical and Behavioral Sciences, Social Work, Architecture, Technology and Communication. The College of Pharmacy, College of Arts, Sciences and Education, FLITE/Retention and Student Success and the division of Academic Affairs have financially supported the program.
"Since its inception in 2010, the student fellows program has funded 115 student projects ranging from the humanities, arts, healthcare and STEM disciplines," Dowling said. "Many Ferris student researchers have gone on to pursue advanced training at prestigious institutions such as the Van Andel Institute Graduate School, Auburn, Wake Forest, Princeton, Baylor College of Medicine and Johns Hopkins University."
There will also be a keynote address offered virtually by Joseph Pistrui, a 1983 graduate of Ferris' Marketing program and 2021 Distinguished Alumni Award recipient. Dowling said this presentation will begin at 11:30 a.m. in the Founders' Room.
"Dr. Pistrui is a faculty member of IE University, a top international university in Madrid, Spain," Dowling said. "We are thrilled to hear his presentation on 'Kinetic Thinking,' a learning and development framework he cofounded several years ago. The intention is to have entrepreneurial approaches applied to management and leadership considerations."
The symposium will continue in Ballroom B early that afternoon for the presentation of over 35 posters created by students across the campus community, including the Kendall College of Art and Design, in a session and reception, which continues until 1 p.m.
"Our expanded field of participants is intended to give all students an opportunity to meet with faculty, staff and others like them, who really give of themselves to promote higher learning and create a vibrant intellectual community on the Ferris campus," Dowling said. "A Zoom option will be available for those who cannot join us on site in Big Rapids, and we are happy to answer any questions about the celebration by email."