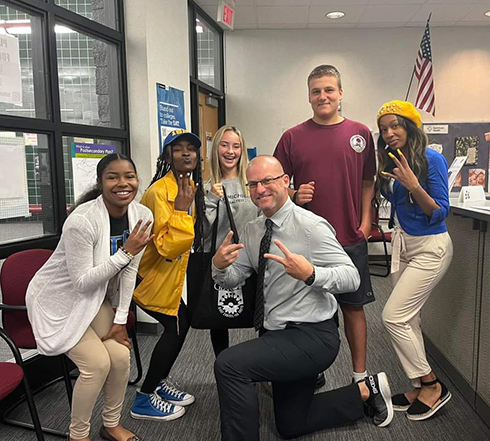 Members of the Delta Zeta chapter of Sigma Gamma Rho Sorority, Inc. recently provided school supplies to Big Rapids High and Middle School students as part of "Operation Big Book Bag." The Ferris State University sorority has been re-established, with community service being a significant focus for their group. (from left) Delta Zeta members DeNyah Oakes, Troianna Childrey, Big Rapids High School student Andi Veltkamp, assistant principal Jake Schumann, BRHS' Bradley DeBruyne and Re'Yan Long, of Sigma Gamma Rho, gathered for the presentation.

A community service project for Ferris State University's Delta Zeta chapter of Sigma Gamma Rho, Inc., a historically African-American sorority, is providing supplies to at-risk students in the Big Rapids Public Schools.
Shannon Brown, a graduate assistant in the Office of Multicultural Student Services, is an on-campus facilitator for the chapter, which was recently re-established on campus. She said Operation Big Book Bag is a national initiative for Sigma Gamma Rho and further noted that the group will accept donations throughout the academic year.
"We have done very well with our first collection, which went to students at Big Rapids High School and Big Rapids Middle School during the week of Sept. 12-16," Brown said. "I would cash in my returnable bottles as a student so that others with needs could have paper for their studies. So, I am very pleased that our members are behind this community outreach project."
Brown said a collection box is available for donations of binders, pens, lined paper and other school materials in the College of Business building, David L. Eisler Center, FLITE and OMSS office.
"The Delta Zeta chapter is committed to serving the Big Rapids community," Brown said. "We hope to support two boys and girls with book bags of supplies twice each semester. We welcome any donations which are gratefully received by the students and staff there."