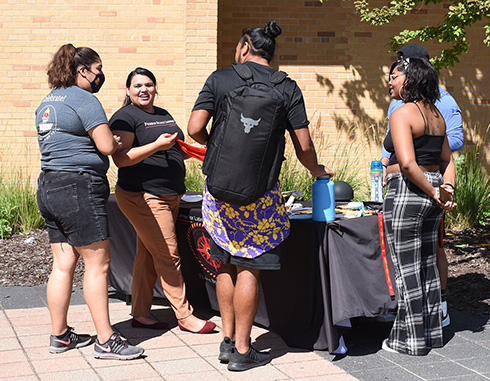 The Center for [email protected] Studies at Ferris State University is celebrating its 10th year of existence, providing cultural awareness and leadership opportunities to students from all backgrounds. At all anniversary events, the focus is on fundraising for a scholarship endowment to support students from a migrant family, DACA background, or of a Hispanic/Latino lineage.

Ferris State University's Center for [email protected] Studies is celebrating 10 years of community partnership supporting student access and success through higher education.
Kaylee Moreno Burke, the CLS executive director, is also a co-founder of the office. She said "Ferris Adelante," or Ferris Forward is their slogan and motivation as they prepare for an Oct. 14 celebration dinner in the David L. Eisler Center as their main event.
"From what was just an idea of campus and community leaders in 2012, we took up a year's worth of engagement activities to make clear the need for such a center on campus," Burke said. "I am proud of being part of a community collaboration that evolved from promoting the success of Hispanic/Latino students in post-secondary education. The Center for [email protected] Studies has grown from being an idea to a fully functional center that supports and impacts the entire campus community."
Burke said the CLS Promesa Summer Success program is a vital operation that now encourages student success and collegiate readiness across the state, including a mini-expansion into the Detroit area in partnership with Ferris' Charter Schools Office. After years of service to middle and high school-age students in three West Michigan communities, Burke touted the expansion to Detroit as a noteworthy accomplishment. She further expressed pride that CLS was part of a collaborative effort to establish the Spanish Language Club, re-establish the Hispanic Student Organization in 2012, and support establishing three Hispanic fraternal organizations. Burke stated, "This work to expand opportunities for Latino students to engage in leadership to transform their campus and create community spaces is at the core of our work."
"Each of our 10th-anniversary celebrations will focus on raising funds for a scholarship endowment, providing support for a student from a migrant family, Deferred Action for Childhood Arrivals (DACA) background, or identifying as Hispanic or Latino," Burke said. "This is an intentional effort to close gaps that students may find in trying to achieve their educational dreams."
Burke added CLS strives to promote academic excellence, retention, cultural awareness and career readiness through the Promesa Scholars program for first-year students and the Amigos de Promesa Scholars offerings for other Ferris students.
"The university's Hispanic student base has grown significantly in the last five years, thanks largely to the outreach that the CLS and campus partners have made through our Promesa, or Promise programs," Burke said. "We are thrilled by the success of several notable alumni, which will be another facet of our celebration schedule during the academic year to come." On Oct. 14, the Center for [email protected] Studies looks Adelante to celebrating 10 years of change and success."