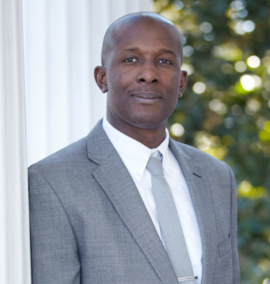 Dr. Damon Tweedy

New York Times best-selling author Dr. Damon Tweedy is the first guest of Ferris State University's Arts and Lectures Committee, speaking on his book, "Black Man in a White Coat," Thursday, Nov. 3, from 7 to 8:30 p.m. in the David L. Eisler Center ballroom.
Glen Okonoski, a professor in the School of Digital Media and the chair of the Arts and Lectures Committee, said Tweedy, an associate professor of psychiatry at the Duke University School of Medicine and staff physician with the Durham, North Carolina Veterans Affairs System, offers candid perspectives on race and medicine. Okonoski further noted that these themes mesh with the committee's desire to present engaging, instructional, or informational people and performers benefiting different aspects of the campus and surrounding community.
"With Ferris' many colleges in the health sciences, we feel Dr. Tweedy's presentation should be an interesting and relevant event while also being valuable for our entire campus and community," Okonoski said. "His articles on race and medicine have been published in leading U.S. newspapers and medical journals, and we look forward to hearing from him that evening."
The event is free and open to the public.
Okonoski said events for Spring 2023 on the Arts and Lectures calendar are in development.