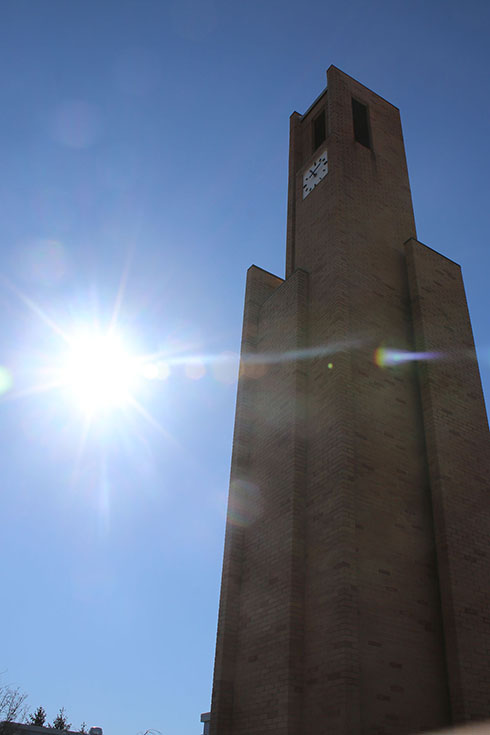 Ferris State University's Board of Trustees held its regular October meeting on Friday, Oct. 7 in Big Rapids.

Ferris State University's Board of Trustees has approved accepting a U.S. Department of Education grant for up to $2 million, a new five-year capital outlay plan, 2023-24 room and board rates, a final 2022-23 general fund operating budget and more at its regular meeting on Friday, Oct. 7 inside the David L. Eisler Center on the Big Rapids campus.
The U.S. Department of Education notified Ferris that it received approval for funding up to $2.04 million for a "Child Care Access Means Parents in School" grant on Sept. 21, 2022. The funding will support Ferris' existing campus-based childcare facility, the Early Learning Center. For 34 years, the ELC has offered educational programs to children and families while doubling as a hands-on academic lab for Ferris students preparing for early childhood education careers. Led by grant and ELC director Lori Johnson, a goal is improving two generations of learning outcomes by addressing parents' childcare access needs for infants and toddlers, providing childcare subsidies with a sliding fee scale for student parents and wrap-around services.
The board of trustees also approved Ferris' submitted fiscal-year 2024 state of Michigan capital outlay project request for a Center for Interprofessional Health Sciences Education. The proposed renovation and expansion project has an estimated $29.5 million cost. An approved request would renovate the existing Allied Health Sciences Building and include added spaces for interprofessional health sciences education with availability for nearby College of Pharmacy and Michigan College of Optometry students on the Big Rapids campus.
Renovation projects for The Rock Café and Miller Hall, approved by the trustees in 2019, were paused during the COVID-19 crisis in 2020. On Friday, the board approved a revised plan at a cost not exceeding $3.6 million. The Rock Café will receive various upgrades, including new flooring, furniture, upgraded lighting, painting, an allergen-free station and other reconfigurations and updated fixtures. Meanwhile, the Miller Hall project includes equipping it with many modern amenities and finishes similar to what residents of the newer North Hall experience.
The trustees approved a 2022-23 room and board rate of $10,509 for a freshman with a double room and the popular Crimson Meal Plan. The new rate is an increase of 2.35 percent, even as Ferris maintains one of the lowest room-and-board rates among state university peers. The board further approved a final fiscal-year 2023 general fund operating budget of $194 million, a reduction of $1.67 million from the preliminary projection. Included in the budget is a 3.6-percent student scholarship increase to $27.6 million. Further approved by board members was a final $30.95 million fiscal-year 2023 housing and dining budget.
The board also heard from President Bill Pink regarding the possibility of the EV battery manufacturing company Gotion's plan to build a plant in the Big Rapids area.
"Our university was a major reason for Gotion's interest in the region. As a university, we will rise to meet their needs," said Pink, whose inauguration took place on Saturday, Oct. 8.
In additional Oct. 8 action, the trustees approved the following:
the College of Engineering Technology is adding an Associate in Applied Science in Engineering Technology. The new degree will serve as a general-purpose degree providing an entry point into the college for students accepted at the university but not yet eligible for a specified CET degree pathway, and



a professional services agreement with EDU Information Security to aid in software integration of Microsoft phone as a replacement for the existing PBX phone switch.
The current trustees are chair Amna P. Seibold, of East Grand Rapids; vice-chair Ana L. Ramirez-Saenz, of Caledonia; secretary Rupesh K. Srivastava, of Wixom; member-at-large LaShanda R. Thomas, of Grosse Pointe; George K. Heartwell, of Newaygo; Kurt A. Hofman, of Grand Rapids; and Ronald E. Snead, of Stanwood.
The next regular meeting of the Board of Trustees is Friday, Dec. 16, 2022, in Big Rapids. Committee meetings begin at 3 p.m. followed by the full board meeting at 4 p.m.