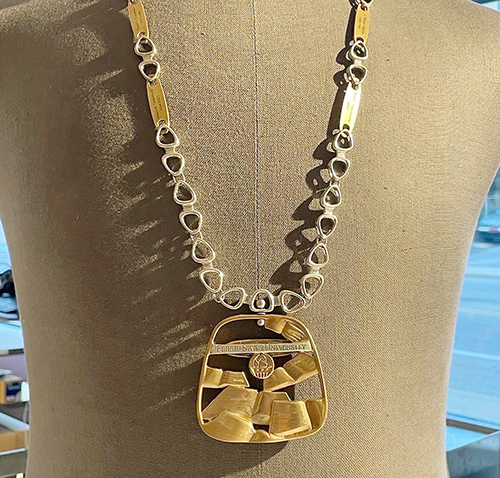 Kendall College of Art and Design Product Design Metals/Jewelry Design Professor Phillip Renato's design of the medallion marks his fourth creation for a Ferris or KCAD president.

The resources and excellence of Ferris State University and its Kendall College of Art and Design were on full display Saturday, Oct. 8. It was on inauguration day that President Bill Pink received his medallion of office, a unique and collaborative creation of KCAD's founding chair of the Allesee Metals/Jewelry Design program and a Product Design student.
Professor Phillip Renato created his fourth presidential medallion after consulting with Pink and Terri Cook, executive assistant to the president. Renato has produced symbols for Ferris and KCAD's sitting and immediate past presidents during his time at the college.
"The first two works, for Kendall's Oliver Evans and Ferris' David Eisler, were more about the recipient in their designs," Renato said. "But in the process for KCAD's Tara McCrackin and this creation for Dr. Pink, the medallion is more focused on the presidential office with the traditional incorporation of past Ferris presidents on President Pink's chain."
Featured on the face of Pink's medallion are six open books, symbolizing Ferris's ongoing commitment to learning and industry while affirming the importance of the university's six core values: collaboration, diversity, ethical community, excellence, learning and opportunity.
"Bill Pink was clear that this medallion's design should not be about him. So, on the backside of the piece, the university is acknowledged, along with his name," Renato said. "Many considerations in developing this medallion were left to my discretion."
Renato also served as a member of the search committee that sought Pink as Ferris' next president.
"I remember sitting in on a campus visit when David Eisler was a candidate for Ferris' presidency," Renato said. "In creating this medallion, it was nice to feel like I knew more about the person to receive it by being part of the search committee."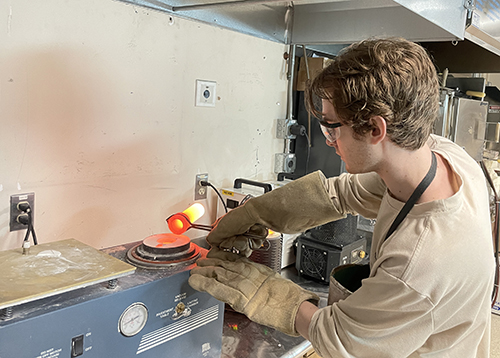 Kendall College of Art and Design Product Design student Gavin Hamblin uses his talents in creation of the presidential medallion and chain recently presented to Ferris State University President Bill Pink at his investiture, Saturday, Oct. 8. Hamblin created pieces to acknowledge each Ferris President over the 138-year history of the institution.

Gavin Hamblin, a student from St. George, Utah, whose experience includes creating chains for family and friends, was slightly surprised he was called to contribute to a project of this magnitude.
"President Pink approached me," he said. "I was thrilled to be asked to apply my skills to present a chain that illustrates Ferris' long history of leadership and place in the West Michigan area."
Renato and Hamblin explained that the chain's acknowledgment of Ferris' past presidents comes about through Gavin's creation and the addition of hanging tags bearing the names of each president, from founder Woodbridge Ferris to President Pink.
"We saw this as a great opportunity to illustrate Ferris' history," Hamblin said. "There are pieces hanging from the silver chain link, which is a standard for this particular form."
Hamblin said his contribution to the creation of the medallion was a great honor, which he intends to note prominently on his CV (curriculum vitae) as he approaches graduation and the beginning of his career.
"It is important to demonstrate that I am capable of developing custom works that are useful in a large sense," Hamblin said. "I feel very lucky to have been part of this process."