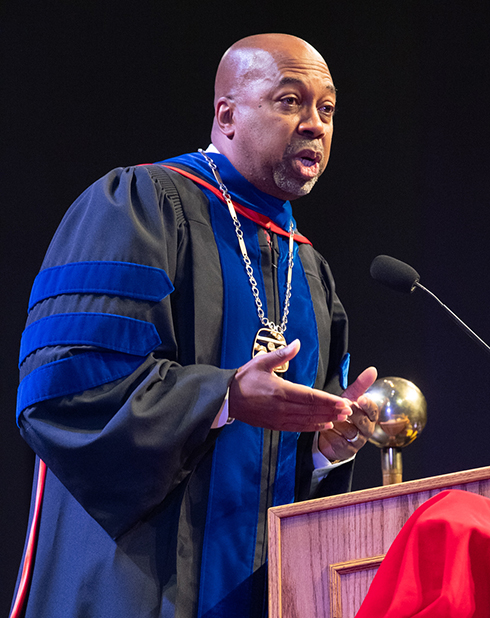 On Saturday, Oct. 8, Ferris State University hosted the formal inauguration ceremony for Bill Pink, its 19th president. Photo by Bill Bitzinger

Pomp, circumstance and celebration for Ferris State University's Bill Pink culminated Saturday, Oct. 8, as the 19th president of the university and the first African American appointed to the position in Ferris' 138-year history was officially inaugurated in Williams Auditorium. An audience of Ferris' past and present leaders, delegates from other colleges and universities, and a variety of other well-wishers attended the ceremony.
Pink assumed his duties as Ferris' president in July 2022, following the retirement of David L. Eisler. In his inaugural address, Pink thanked and reinforced his philosophical keywords, responsive and relevant. He spoke of the optimism that his opportunity as president presents.
"We have sentences about us that start with 'Ferris State is the first,'" Pink said. "The first in the country to have a professional golf management program, the first to have heavy equipment degrees and certificates doing amazing things across the country. The national championship basketball team from 2018 and the (reigning) national championship football team show that this university 'plays big' all the time."
Pink continued by saying his assumption of leadership is not symbolic of a comeback for the university.
"There's no comeback here, friends," Pink said. "We've been here, and we have to figure now, 'What is that next level?' It's a great time to be here."
The academic tradition of presenting the newly inaugurated president with a unique medallion of office continued as part of the investiture ceremony. Philip Renato designed and created the piece. A professor and the founding chair of the Allesee Metals/Jewelry Design program at Ferris State University's Kendall College of Art and Design, Renato was also a member of the Presidential Search Committee.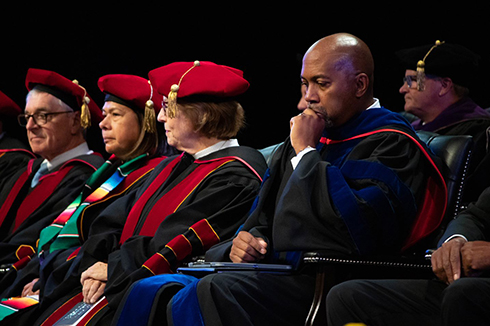 On Saturday, Oct. 8, Ferris State University hosted the formal inauguration ceremony for Bill Pink, its 19th president. President Pink is shown here in thought, listening during the ceremony. Photo by Erin Dusa

The medallion features six open books, symbolizing Ferris' ongoing commitment to learning and industry while affirming the importance of the university's core values: collaboration, diversity, ethical community, excellence, learning and opportunity. KCAD Product Design student Gavin Hamblin, of St. George, Utah designed and created the chain for the medallion. It includes a tribute to previous Ferris presidents by incorporating their names into its design. Pink praised these efforts.
"When you have something done like this, by our people, by our family, (it) means a lot, not only to me as president, but it means a lot to the institution," he said. "A big thank you to Philip and to Gavin for an amazing job."
The ceremony also included greetings offered by officials from state and local government, as well as university leaders and alumni, with ceremonial music presented by the FSU West Central Concert Band and Chamber Orchestra, along with the FSU Concert Choir.
Pink came to Ferris after seven years at Grand Rapids Community College, where he started as vice president and dean of Workforce Development, advancing to over five years of leadership and institutional growth in his time as president. Pink has over 15 years of experience in collegiate administration, rising in administrative responsibilities through roles with Oklahoma-based institutions as part of over 30 years in higher education before his call to Big Rapids.
Pink is also involved in governance and policy development at regional and national levels. Gov. Gretchen Whitmer appointed him to the Michigan Economic Development Corporation executive committee. He is a member of the Higher Learning Commission's board of trustees. Pink further serves on the American Council on Education board of directors, working with national leaders to shape public policy and to help more students gain a quality education. In West Michigan, he serves on the boards of Spectrum Health West Michigan, is board chair for the Heart of West Michigan United Way and board vice-chair for The Right Place. In 2019, the Grand Rapids Business Journal named Pink its Newsmaker of the Year in Education. He holds a Doctor of Philosophy from the University of Oklahoma in Instructional Leadership and Academic Curriculum, a Master of Education in Physical Education and Secondary Education from the University of Central Oklahoma, and a Bachelor of Science in Physical Education and Professional Education from Oklahoma Christian University.
Ferris celebrated two days of inauguration celebrations for Pink. Students came to the David L. Eisler Center on Friday, Oct. 7, for a picnic meal and meet-and-greet opportunity. Delegates and other guests for the inauguration gathered for brunch in the Eisler Center before the ceremony on Saturday, Oct. 8. A campus and community celebration on the Robinson Quad followed the day's major activity.