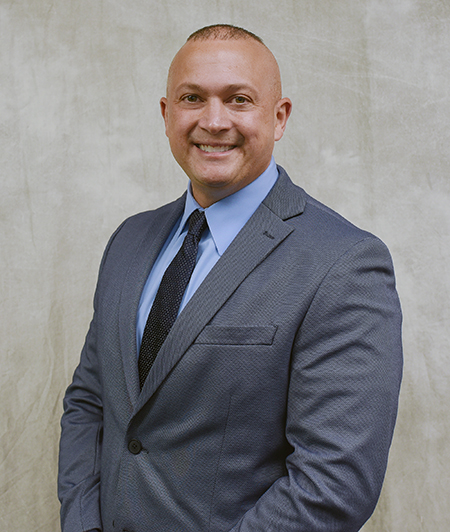 Abe Haroon

Abe Haroon, who most recently served as the Johnstown, Ohio chief of police, will be Ferris State University's new Department of Public Safety director. Vice President for Administration and Finance Jim Bachmeier announced Haroon's appointment, concluding a national search that featured comprehensive on-campus interviews and open forums.
Before becoming chief of police in Johnstown, Haroon served as a deputy sheriff for the Licking County Sheriff's Office in Newark, Ohio; as a patrol officer for the Pickerington Police Department in Ohio; for five years as a School Resource Officer, and for four years in Special Weapons and Tactics (SWAT) with Pickerington PD. His experience includes serving as a patrol sergeant in Pickerington before becoming chief of police in March 2020 in Johnstown, Ohio. Haroon, who will replace John Allen as Ferris DPS director, served in that role in Johnstown until May 2022.
"We're happy to announce the appointment of Abe Haroon as Ferris' new director of Public Safety. Abe comes to Ferris with great law enforcement leadership over 17 years of building lasting relationships and trust in communities where he has worked. We believe Abe is a great fit for leading a Department of Public Safety on a university campus," Bachmeier said. "His track record shows a strong emphasis on community, finding practical solutions, developing future leaders, communication, transparency and relationship building. We are excited for Abe to represent Ferris and strengthen relationships on and off campus while working collaboratively with city, county and state law enforcement agencies."
Haroon earned a Bachelor of Science in Criminal Justice Administration from Globe University in Minneapolis, Minnesota, before receiving his Master of Business Administration, Management and Leadership from Western Governors University, based in Salt Lake City, Utah. Further, Haroon completed the Public Safety Leadership Academy from the Ohio State University John Glenn School of Public Affairs (FBI N/A equivalent) in 2017; finished the Police and Staff Command program at the Northwestern University Center for Public Safety in Evanston, Illinois (FBI N/A equivalent); and the Certified Law Enforcement Executive program from the Ohio Law Enforcement Foundation in 2020.
"I am humbled and honored by the opportunity to join Ferris State University's team as the new director of Public Safety. I have enjoyed the opportunities I've already had to meet and begin getting to know people on campus and in the area," Haroon said. "I look forward to continuing to build and strengthen relationships on our campus, in the Big Rapids community, throughout Mecosta County and beyond. Ferris' Department of Public Safety has a long and proud history of serving and protecting our campus faculty, staff, students and visitors. I'm excited to work with the great people of Ferris, Big Rapids and Mecosta County."
The Ferris Department of Public Safety includes a director, assistant director/captain, two sergeants, one detective sergeant, seven officers, one dispatch specialist, student dispatch specialists and student cadets.
Haroon begins his duties as the Department of Public Safety director on Monday, Oct. 17.