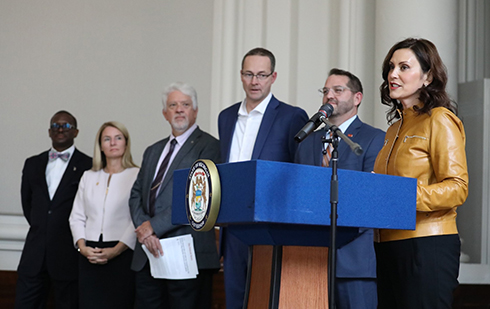 Michigan Gov. Gretchen Whitmer address an audience inside Boyer Hall inside the Woodbridge N. Ferris Building at Ferris State University's Kendall College of Art and Design in Grand Rapids on Wednesday, Oct. 5, 2022.

GRAND RAPIDS – Joining Gov. Gretchen Whitmer and leaders from the Michigan Economic Development Corporation, Ferris State University President Bill Pink saluted a "once-in-a-century" collaborative project for Big Rapids, Mecosta County and the region. On Wednesday, Oct. 5, the parties announced financial support for a large-scale investment by Gotion, a global battery company that plans to build its battery component manufacturing facility in Big Rapids. In making this announcement, in a ceremony hosted in Boyer Hall of the Woodbridge N. Ferris Building at Ferris' Kendall College of Art and Design, the governor echoed Pink's enthusiasm for this significant development in north-central Michigan.
"Michigan has made a global name for itself as the preeminent place for EV and mobility companies to grow, which is underscored by this transformational announcement by Gotion, a global company that is choosing to build its future here in Big Rapids," Whitmer said. "This investment represents the single biggest economic development project this far North in Michigan history, and demonstrates our ongoing commitment to working with anyone – and competing with everyone – to secure these opportunities for all Michiganders."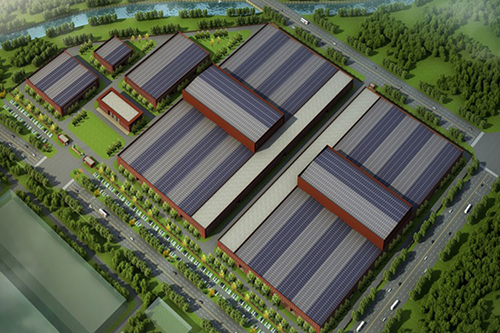 Here is a rendering of the future facility in Big Rapids from Gotion, a global battery company.

This $2.364 billion investment in the state of Michigan by Gotion, a company founded in 1998 in China, could create up to 2,350 new jobs in the Big Rapids area. Upon completion, the plant will cover an area of 260 acres with plans to construct two 550,000-square-foot production plants and other support facilities for Gotion, known for research and development, production and the sale of power lithium batteries in China and globally. Incorporated in California in 2014, future operations that include the Big Rapids project and others will focus on establishing production capacity for the U.S.
"We are excited at the opportunity to partner with Gotion, our municipal leaders, and our economic development partners on this once-in-a-century project that will have a significant impact for both the Big Rapids region and for Ferris State University," said Pink, who is eager for continued collaboration with the leadership of the city of Big Rapids, local townships, Mecosta County and the state of Michigan, while championing Ferris' role in talent development and recruitment. "Gotion has made it clear that Ferris State University will be a strong partner in this effort for many years to come, and we are well prepared to do so. I am excited about this opportunity to advance our state, region, the city of Big Rapids, and our great university."
Provost and Vice President for Academic Affairs Bobby Fleischman sees higher education, generally, and Ferris, specifically, as an ideal partner due to its academic mission that aligns with industry needs.
"Ferris State University has advanced knowledge and program maturity in key applied knowledge areas like welding engineering of exotic materials, plastics engineering and injection mold design, metrology labs, and quality engineering," the provost said. "The state has already invested significantly in developing these program areas and laboratories at Ferris State. Leveraging this capability for advanced battery production education and research at Ferris State University is forward thinking and economical to produce the workforce the battery industry needs."
Pink further noted that Ferris has been and will continue to be a partner in higher education to strengthen access to a college degree for students across Michigan. Ferris offers more than 190 degrees in seven colleges across 22 campuses and online.
"Ferris State University is proud of its extensive partnerships with Michigan's community colleges. Now, these higher education partnerships become even more important," he said. "Ferris serves as an educational resource opportunity to millions of Michiganders with some college but no degree as well as those who need retraining as the internal combustion engine industry transitions."
Michael Staley, dean of Ferris' College of Engineering Technology, echoed Pink's comment about this being a once-in-a-century opportunity. In the history of the automotive industry, Staley believes this is the "biggest disruption to this industry since mass production."
"Developing battery production capabilities in Big Rapids will secure West Michigan dominance in battery technology for a rapidly changing automotive industry. However, we will also be developing the capability to pivot into many other industry sectors," Staley said. "The investments by the automotive industry in lithium battery production signal the importance of this technology in the supply chain of the automotive industry. The significance of this battery technology to the future of the automotive manufacturing sector cannot be overstated.
Staley further noted, "Six major automotive manufacturing companies have pledged to stop production of internal combustion engine vehicles to major markets by 2035 and to stop supplying global markets by 2040. These six manufacturers are Ford, General Motors, Mercedes-Benz, Jaguar, Land Rover and China's BYD."
The Michigan Strategic Fund board backed an incentives package that includes:
a $125 million Critical Industry Program performance-based grant through the SOAR Fund;
an MSF Designated Renaissance Zone estimated to be worth $540 million; and
a $50 million Strategic Site Readiness Program performance-based grant through the SOAR Fund which will be awarded to The Right Place.
Quentin L. Messer Jr., CEO of MEDC and President and Chair of the MSF board, believes the hard work behind the scenes, focused on the best interests of the state, played a major role in bring this project forward.
"We are thrilled to congratulate the Gotion team on choosing Michigan as their American home for opportunity. Team Michigan continues to out-hustle and out-compete to ensure every global company considering their future expansion opportunities can see their future here in our state, just like Gotion does," he said. "We are grateful for the support and collaboration from our partners at The Right Place and Consumer's Energy, in particular, and appreciate the bipartisan support of the legislature to bring these good-paying jobs and economic opportunities to our friends and neighbors both here in Big Rapids and throughout the region."
Officials from The Right Place anticipate the creation of new jobs will spark new investments and redevelopment opportunities. According to a release issued by the MEDC, "Over $11.5 billion in new personal income is expected to be generated by the direct, indirect, and induced jobs that this opportunity will create over 20 years."