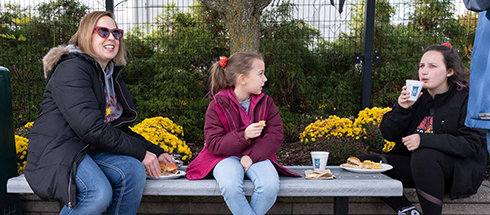 The annual Family and Friends Weekend for Ferris State University students and their guests is Friday, Oct. 21, and Saturday, Oct. 22.

Fall colors are peaking, and a full display of campus amenities will be available to Ferris State University students welcoming guests for the annual Family and Friends Weekend on Friday, Oct. 21, and Saturday, Oct. 22.
Student Recreation Director Justin Harden, chair of the Family and Friends Weekend committee, said that plans will proceed no matter the weather to ensure an enjoyable weekend for participants.
"Registration begins at 4 p.m. Friday, in the David L. Eisler Center, where we hope our guests return to enjoy 'Top Gun Maverick' in the ballroom, starting at 8 p.m.," Harden said. "No tickets are required, as our Friday schedule is open-ended so that students can show off our campus to their guests that afternoon and evening."
On Saturday, Oct. 22, participants can visit the Card Riley Card/Riley Wildlife Education Center or enjoy Mini-Disc Golf in the Ferris Library for Information, Technology and Education (FLITE). The day also features a tailgate beginning at 11 a.m. in the Student Recreation Center parking lot.
"We ask that guests register online, so our Pere Marquette Bistro caterers are well advised for this event," Harden said. "We are collaborating with the Center for [email protected] Studies, which will have the Bulldog Familia Asada, or 'family roast,' at that time. It will be an active scene, as Ferris' football team hosts Michigan Tech University at nearby Top Taggart Field that afternoon. The tailgate should be enjoyable whether our guests purchase game tickets or head onto campus or the surrounding community that afternoon for other free events."
All registered Family and Friends Weekend participants will have free access to the Student Recreation Center until 7 p.m.
There will be pumpkin decorating in the David L. Eisler Center from 3 to 5 p.m., and an open skate will begin at 6 p.m. in the Ewigleben Ice Arena.
"To cap the evening, we are joining Entertainment Unlimited to greet magician Peter Boie in a show that begins at 7 p.m.," Harden said. "We hope all our guests create a mix of experiences they will enjoy and remember as they take in all we offer on this beautiful campus."
Organizers advise anyone interested in hotel accommodations to make reservations in advance, with a busy weekend expected on campus and in the area. Group rates are available at the Holiday Inn and Hampton Inn for Family and Friends participants.
Family and Friends Weekend guests will receive a discount on apparel at Ferris Outfitters in the David L. Eisler Center during this visit.
Harden said questions about Family and Friends Weekend can be submitted online. Anyone with a disability requiring accommodation to participate in this event can contact Kaitlin Zies, Title IX Coordinator, at (231) 591-2088, at least 72 hours in advance.