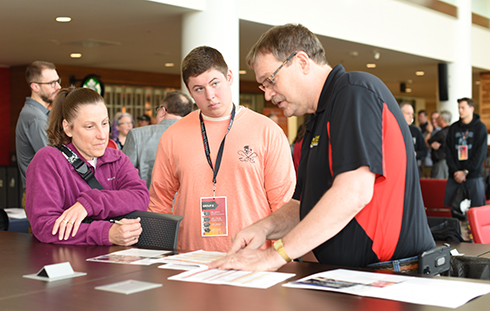 The first "Dawg Days" program of the 2022-23 academic year will be Saturday, Oct. 15 on Ferris State University's Big Rapids campus from 9 a.m. to 1 p.m.

More than 100 high school students and others considering Ferris State University as an educational destination will be on the Big Rapids campus Saturday, Oct. 15. Dawg Days, offered by the Admissions and Financial Aid offices, begins at 9 a.m. in the David L. Eisler Center. Ferris also has an online registration opportunity before arriving in Big Rapids on Oct. 15.
Assistant Director of Orientation Emily Hicks said the program wraps up by 1 p.m., allowing visitors to watch the football showdown between Ferris and rival Grand Valley State University, the Anchor-Bone Classic, at nearby Top Taggart Field. Click the link to purchase game tickets.
"Recent reports showed 106 students and more than 350 guests registered to join us that day," Hicks said, noting the excitement for the rivalry football game between two of the top teams at the NCAA Division II level.
Hicks noted a collaborative effort to provide Dawg Days visitors a brief but comprehensive look at what Ferris offers students.
"We can present a snapshot of our academic programs, university departments, and the support system available to your students in a fun and digestible experience," Hicks said. "Each Dawg Day offers our visitors a chance to hear from orientation leaders who can give the student perspective on why they chose Ferris, with all the opportunities they have enjoyed here."
Students receive a Ferris t-shirt, and their parties receive a complimentary lunch that day.
There are also various day visit programs for students to travel with an Admissions representative and explore the campus in a personalized exposure to the Big Rapids campus.
"Daily visits are offered each weekday, except Wednesday, from 11 a.m. to 1:30 p.m.," Hicks said. "We also have mid-afternoon visits every Monday and Friday.
Hicks added that Ferris-admitted high school seniors can take part in an immersive experience through the office's "Crimson and Gold" program.
"We offered this before the pandemic. We would pair the visiting student with one of our Crimson and Gold hosts," Hicks said. "They would attend a couple of classes, have lunch on campus and, when possible, attend a registered student organization meeting.
Crimson and Gold is an engaging experience we intend to bring back to its glory as of February 2023."
For more information or to seek accommodations to assist participation in Dawg Days, contact Admissions by email or by phone at (231) 598-8210.