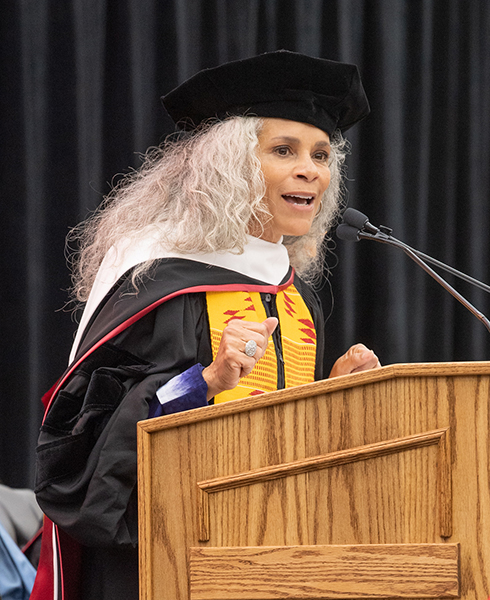 Dana King

The calendar year 2022 has been an active and rewarding one for Ferris State University alumna Dana King. Earlier in the year, King was appointed to The Ferris Foundation Board of Directors. Now, as 2022 comes to a close, the renowned sculptor and award-winning news anchor will serve as the keynote speaker for The Ferris Foundation for Excellence Benefit on Friday, Nov. 4, in the Steelcase Ballroom of the DeVos Place Convention Center in Grand Rapids.
"I guess it is in my DNA. It keeps informing my life," said King, a 1982 College of Business graduate who remains a vigorous advocate for Ferris. "I find it in my upbringing, in looking back at my life in Big Rapids and Ferris. Even now, I am happy to be back in the Ferris family as part of this journey. I am so grateful."
In 2022, King joined the fundraising cabinet for the new Jim Crow Museum, Archive and Research Facility, started serving on The Ferris Foundation Board of Directors and received an Honorary Doctorate of Humane Letters during spring commencement ceremonies at Ferris.
"It has all been a gift," King said. "I am glad to have the time and space to give in this fashion. It has been so important to be included, as I still feel close to the university at my age as if that span of time has not gone by. I am happy to bring my contacts forward, working for the benefit of the Foundation and the Jim Crow Museum."
Ferris President Bill Pink will also speak at The Ferris Foundation for Excellence Benefit. Proceeds from the event support Faculty/Staff Merit Grants and Opportunity Endowed Scholarships for qualified Ferris students. The Ferris Foundation is now in its fourth decade of advancing the mission and goals of Ferris by generating and managing private support.