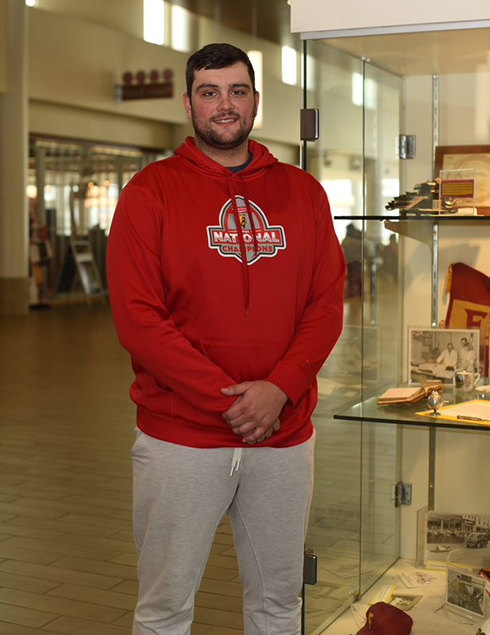 Caleb Wisniski
Possessing the size and ability to succeed athletically and an inclination on what to pursue academically is a successful recipe for Caleb Wisniski, who will graduate at 4 p.m. on Saturday, May 7, from Ferris State University's College of Engineering Technology. Wisniski will receive a Bachelor of Science in Welding Engineering Technology.
Wisniski is a third-generation football athlete whose 6-foot-4 frame was easy to spot at Onekama High School, where, in a graduating class of 45, he found himself the biggest player on the field against smaller-scale opposition.
"I would send out film but not get a great deal of attention because our Northwest Conference schedule and nonconference games did not put me in the best light for consideration as a college athlete," said Wisniski, who would become a member of the 2021 NCAA Division II National Champion Ferris State football team, which defeated Valdosta State University 58-17 on Dec. 18. "Ferris offered me the opportunity to join their program as a preferred walk-on, and my uncle had studied Welding Engineering Technology here in the mid-80s. It looked attractive to me, so I accepted."
Wisniski's other attribute was arriving at Ferris in Fall 2016 with dual enrollment credits in General Studies courses. The Welding Engineering Technology program is competitive for students entering the curriculum.
"Having those 'Gen-Ed' classes out of the way allowed me to take my first welding class in my second year on campus or freshman year in the program," Wisniski said. "The demands of coursework in Welding Engineering Technology, as far as being a football player, were extremely tough to manage early on."
He added, "I developed a strict routine, where my days involved practice and weightlifting, about equal to my time given to study and classes. There were prerequisite Welding classes I had to take during our practice time. I literally ran from the middle of practice, in pads and uniform, to my lecture. That allowed me to keep my grades up, but I don't know how much my classmates enjoyed me being straight off the field, in the seat next to them."
Being an upperclassman as a student and athlete in Spring 2020 showed that the COVID-19 pandemic's onset was drawing some conclusions as they applied to Caleb's time at Ferris.
"When it first hit, I started feeling I would not be a player again," Wisniski said. "I wound up losing weight, dropping to 250 pounds, which is very light for an offensive lineman. I stayed in shape and completed my prerequisite courses, thinking I was heading towards my professional career without having the chance to meet my goals as an athlete and teammate."
For Summer 2021, he found himself in an opportunity to build his experience and his physique through an internship with Shape Corporation in Grand Haven. Wisniski commuted from Big Rapids, which meant being out the door at 4:30 a.m. to ensure arriving at the manufacturer on time.
"We are required to complete an internship for credit in the Welding Engineering Technology program," he said. "I was working with their automotive parts manufacturing section, which meant that I increased my exposure to FANUC robots. They are automated units that we have in our laboratories at Ferris, so I could jump in and assist in quality control on the production of those parts. The assignments in our area were not sophisticated parts, but it was a good learning experience for me."
With the 2021 football season coming up, Shape Corp also offered Caleb a chance to restore his size and strength in the weight room on their campus.
"I tried to do my work without making much of a show," Wisniski said. "Others in there may not have realized that I was working out to prepare for the season at Ferris. Because I was one of the larger people in the facility, you draw some attention, regardless."
Caleb said his campus-based preparations to return to line play meant putting on weight and focused training.
"I would continue my workouts when I got back to town," Wisniski said. "One thing about having lost that weight is that I improved my footwork, which is important for an offensive lineman. I really have to credit Coach Sam Parker for pushing me to give a little more in my campus workouts, putting in the time and being intentional about building up my weight."
Wisniski had been part of a great deal of success as a player with the Ferris football program, though the 2019 season ended by falling at home to West Florida in the NCAA Division II national semifinal and a defeat in the 2018 national title game against Valdosta State. Caleb had increasing amounts of playing time in those seasons and said the break, in 2020, allowed the entire team to focus on their skills and goals.
"The players who joined Ferris' program in 2016 took it upon ourselves as a group to be the best possible players we could, always giving it our all," Caleb said. "Our compatibility as a team helped us go over what was needed and develop into dominating units, on offense and defense, which was so important in our achieving our goals."
Wisniski was a starting tackle this past season for an offensive unit that led all Division II programs in scoring (47.2 points per game) while finishing fifth nationally in rushing, gaining 280 yards a game. Caleb said their experience and dedication as a unit allowed them to achieve excellence to support their undefeated season.
"Once we got rolling, the offensive line really could dominate," Wisniski said. "We had 0 top-tier Division II players, so we set our attitudes aside and played in rotations. Even in playoff games, we would be on for ten plays, with the other group then coming in, ready to go with fresh legs. Our opponents could not match up to us, so we could impose our will and do great things as an offense."
Wisniski also found the year that the COVID-19 pandemic presented, in terms of extended athletic eligibility, the ability to proceed comfortably toward goals, both as a player and student.
"With the prerequisite courses toward my degree behind me, I could take fewer credits and advance confidently, thanks to my familiarity with the subject matter," Caleb said. "This meant I could commit both to what was necessary, academically, while I did what I needed to keep my place on the offensive line."
Ferris' return last December to McKinney, Texas, for a rematch against Valdosta State, the 2018 NCAA Division II National Champion, was a chance for Caleb to make a mark for himself, and his own football family. His grandfather, James "Nipper" Wisniski, was a legendary Manistee High School player, who played for Indiana University and Caleb's father, Jeff, played a year at North Alabama. Wisniski said his family had obstacles in their travel arrangements to Texas but arrived in time for the championship game.
"My whole family has always been on my side, with a real tradition related to football, so they focus on success in all aspects of life, including academics," Caleb said. "I was so glad they could share that with me. My family also wants me to be humble, so I could only call myself a national champion a month, according to their wishes. Still, I know how important that experience has been to my formation and I expect it will be valuable to me, as I commit to the start of my career. I could not ask for a better ending."
Wisniski moves seamlessly from his studies at Ferris to his career, as he has begun the onboarding process with IMG (Innovation in Manufacturing), an engineering firm based in Livonia.
"They are focused on robotic and automation applications, any units that a client would require for their operation," he said. "I know we will serve a variety of manufacturers, tailoring the robotic units to their needs. There will be plenty for me to learn about these devices and gain experience in project management. That is a new experience for me, but I am confident about what this offers me to establish my career and that I can succeed in it."
While Caleb is ready to take on a new chapter in his life, the Wisniski family continues a presence, past, present and future with Ferris.
"I had my sister Chloe as a roommate this year," Wisniski said. "She is studying Teacher Education. We are super close, with 18 years of family life shared. Our adding on another year as roommates at Ferris was a great experience."
Caleb's mother, Heidi, is an alumna of the Radiography program offered by the university and another sister, Tara, earned credits from Ferris online. The Wisniski ranks grow this fall as another student-athlete, Sophie, has signed a letter of intent to join the Ferris softball team.
"She has real talent in a number of sports," Wisniski said. "I am super happy to see her put in the work as a softball player and expect I will be back with our family to see her team play. We are very familiar with and really enjoy this place."
Spring 2022 commencement ceremonies are set for Friday, May 6 and Saturday, May 7.