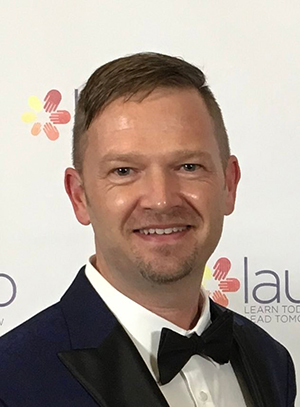 Eric Warner
Spreading the message about the importance of bilingual abilities for professionals and social justice in an increasingly diverse workplace has been Eric Warner's avocation. It is also central to his nomination and selection as Ferris State University's 2022 Distinguished Teacher Award recipient.
Warner is an Associate Professor of Spanish and French in the Department of English, Literature, and World Languages. A teacher since 1999, he came to Ferris in 2009, focused on language and culture instruction as part of the Spanish for the Professions major in the Department of English, Literature and World Languages.
Warner said the experiential learning in a Spanish for the Professions program was the first such program for any Michigan university when it received approval for implementation from university leaders in 2014.
"I met with people in migrant communities, hearing that they would greatly benefit by receiving assistance from people with knowledge of social services, or persons familiar with business practices, who also had learned to effectively communicate in Spanish," Warner said. "From our beginnings, the intentionality was to combine Spanish and intercultural competencies with students and industries for health care professions, business, and social services in practical applications of their chosen fields related to our diverse society, nationally and internationally."
Warner said Spanish for the Professions is a program accommodating all interdisciplinary prospects in developing skills that begin in the classroom, later augmented by learning in off-campus experiences.
"We can provide in-state placements for these students to work with the Spanish-speaking community. Since the onset of the pandemic in 2020, we have not been able to provide Study Abroad experiences or international internship placement," Warner said. "Historically, we have had placements in Costa Rica, Peru, Spain and Ecuador, and in time will consider expanding that opportunity to other countries of high priority, such as Mexico. Our students make great gains, linguistically and inter-culturally, when they travel internationally and apply their learning to the experience. There was significant momentum gained for our program before the pandemic's onset in 2020. We hope to rebuild that when travel options are reestablished in 2023 for students."
Warner said Costa Rica and Spain have traditionally served as a destination for students in Study Abroad programs, an opportunity he is anxious to restore to students beginning next year.
"I am co-director of this program that began well before I came to the university," Warner said. "We have had success there, thanks partly to our students staying with host families, where they are immersed in the language and culture. It is our intention, expecting that travel restrictions are lifted by summer of next year, that we might return to an active Study Abroad program in that country."
Warner has been an active campus contributor, serving on the Honors Admissions Committee and the Latinx Heritage Month Planning Committee, as advisory board member for the Center for [email protected] Studies, as a member of the International Education Senate Committee and serving as a team leader on a Strategic Planning and Resource Council (SPARC) subcommittee. Regionally, Warner collaborates with the Telamon Corporation, a private nonprofit that operates the Michigan Migrant Head Start program and National Farmworkers Jobs Program, serving thousands of farmworkers and their family members.


Distinguished Teacher Award Past Recipients (since 2000)
2021 – Patrick Bishop
2020 – Lori Faulkner
2019 – Tracey Busch
2018 – Deborah Rockman
2017 – John Scott Gray
2016 – Sharon Colley
2014 – Jennifer Johnson
2014 – Gary Huey
2013 – Avesh Raghunandan
2012 – Clifton Franklund
2011 – Greg Gogolin
2010 – Richard Goosen
2009 – Daniel Adsmond
2008 – Khagendra Thapa
2007 – Mary Murnik
2006 – Pasquale Di Raddo
2005 – Robert McCullough
2005 – Fred Heck
2004 – David Pilgrim
2003 – Phillip Middleton
2003 – David Hanna
2003 – David Aiken
2002 – Sheila MacEachron
2001 – J. Randall Groves
2001 – Abdollah Ferdowsi
2000 – Richard J. Pisacreta
2000 – Daniel Noren