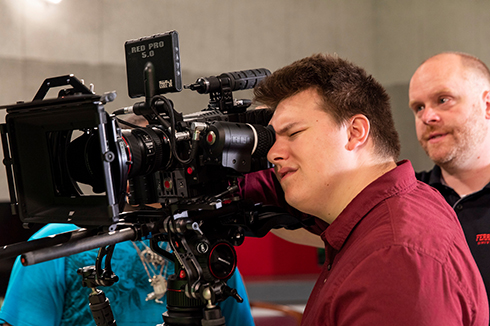 Ferris State University's Television and Digital Media Production program salutes student award winners who have recently achieved great success.
The recently concluded 2021-22 academic year was rewarding for Ferris State University's Television and Digital Media Production program. Students posted winning entries in multiple national and regional award competitions.
Joshua Pardon, an associate professor of TDMP, expressed the department's collective pride in the entry wins. The successes included an Award of Excellence from the National Academy of Television Arts and Sciences' Michigan Student Production Awards, the Michigan Association of Broadcasters' Student Broadcast Awards and the Broadcast Education Association Festival of Media Arts.
"This is the first time we have had this kind of success across the board, in the same year," Pardon said. "The non-fiction micro-documentary 'A Farmer's Tragedy,' by Mary Firestone, of West Simsbury, Connecticut, won the NATAS and BEA honors, a thrill for her and the department. We have been making gains in our BEA entries in the last five years. To get the Award of Excellence from a competition with a national scope speaks to the excellence that our students can present."
Pardon said the students have an extended record of success through annual submissions to MAB competitions.
Jacob Jergens, of Troy, Ohio; Kevin Jones, of St. Joseph, Michigan; and Jacob VanHarmelen, of Wyoming, collaborated on "Our Brother's Keeper."
"That brought them a first-place in the documentary category," Pardon said. "This was a project from the Instructional Design course offered in the fall semester. Mary's multi-award-winning work was created in our Cinematic Story Production class last spring, with additional production in our 300-level Color Grading course."
Pardon noted other TDMP student projects entered in competitions and highlighted the experiential learning opportunity for the participants.
"Regardless of whether their work wins an award, it is a most salable point for each student," Pardon said. "Being able to submit for that level of consideration helped start and develop career abilities, bringing them the attention that helps separate their accomplishments from the pack."
Pardon said the notion of digital media production is increasingly significant as it applies to career opportunities for TDMP graduates.
"We still have our share of students move on to broadcast media activities, but there are video production companies, sports teams and corporate endeavors that benefit from what is offered in our program," Pardon said. "Our students understand the range of career paths they can consider and explore, with sufficient preparation to explore and succeed, because of our curriculum structure."