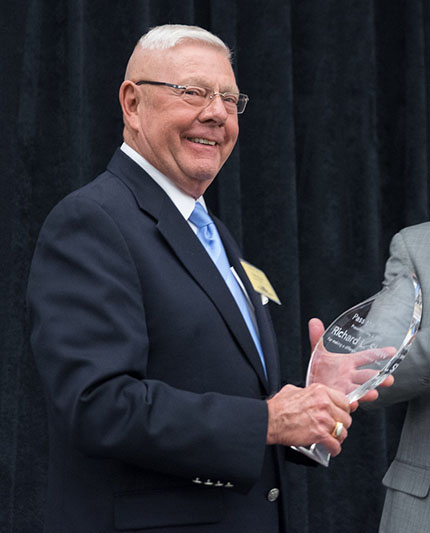 Dick Shaw
Some 60 years after earning an Associate of Applied Science degree in Heating, Ventilation, Air Conditioning and Refrigeration from Ferris State University, former HVACR Program Director Dick Shaw will receive an Honorary Doctor of Industry at commencement for the College of Engineering Technology on Saturday, May 7 at 4 p.m.
Shaw, a native of Hesperia in Oceana County, said President David Eisler showed great persistence for an opportunity to arise so that he could make his proposal.
"Oh, man, did it ever come as a surprise," Shaw said. "I have been friends with Dave and Patsy for a long time, with several recent get-togethers offered that just did not meet our schedules. Finally, we were able to have dinner in Grand Rapids before we would go on that evening to our own social engagements. He asked if I would accept the honorary doctorate while Patsy listened and smiled at me. I told him several times that many others were more deserving, but he persisted, and Patsy's smile grew as she watched us go back and forth. I gave in, and went off to a Grand Rapids Griffins game without much focus on that contest thanks to this honor."
Shaw brought a broad-based perspective to his career in HVACR and learning, having served in the United States Army, then returning to Ferris for his Bachelor of Science in Technical Education in 1969, following his honorable discharge. He earned that degree in 1971, then served as a professor and became director of the program, retiring from the university in 1998. Shaw continues as a contributor to the Air Conditioning Contractors of America and serves in consultancy roles, with pride and thankfulness for his opportunity to pursue training and advance the HVACR industry.
"My entire working career, beyond a high school job grinding grain, followed by a stint building crates, has been focused on heating, ventilation, air conditioning and refrigeration," Shaw said. "I was blessed to stumble onto the prospects the industry offers by talking with a family friend. I am so glad I decided to focus on education and training, which exposed me to many great opportunities in this industry. To still be in the ranks of consultants, 60 years into my career, keeps me active and interested, so I am very thankful for what Ferris was able to nurture in me as an educator."
Shaw received Ferris' Distinguished Teacher Award in 1978 and, more recently, earned recognition as a Distinguished Alumnus in 2018.
Shaw's involvements continue with the university, as he has been a member of The Ferris Foundation Board of Directors since 2005. He has also served on the cabinet of the Now and Always campaign, the university's first comprehensive fundraising effort that surpassed a revised goal of $115 million for scholarships, academic program enhancement and facilities improvements. Shaw also has endowed academic and athletic scholarships and made endowed financial gifts to Ferris athletic programs.
Shaw loves the month of May for the Indianapolis 500 auto race but said it is a pleasure to return to Big Rapids to honor the Class of 2022 at the College of Engineering Technology commencement, building on his extended history as a supporter and mentor of Ferris students.
"The relationships I have with former students have been so rewarding," he said. "They have become my best friends."
Fellow alumnus Phil Hagerman, a pharmaceutical and health care industry leader, and Dana King, an alumna and a former network news host and sculptor, will also receive Honorary Doctorate degrees at commencement exercises for their respective colleges on May 6 and May 7.
Approximately 1,600 graduates are expected to take part in the five ceremonies with university leadership, faculty, staff and family in attendance. The commencement schedule will be the last with President David Eisler in the lead, as he retires on June 30.