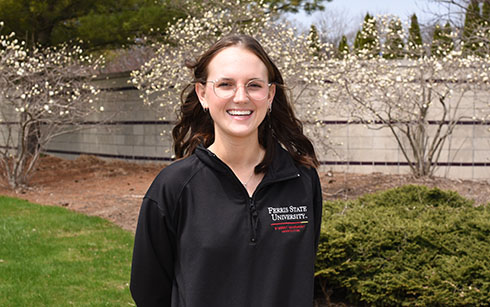 MaeLynn Huhn
Recently elected as president of the Ferris State University Student Government Association, senior MaeLynn Huhn is focused on strengthening a robust culture of student involvement as she looks ahead to the 2022-23 academic year.
Huhn, a Psychology major, has made participation as an engaged student one cornerstone of her college experience. Initially joining the Student Government Association during her sophomore year as a representative of her sorority, Alpha Xi Delta, Huhn quickly climbed the organization's ranks. She served as The BIG Event chair, director of internal assessment and, moving forward, as SGA's next president, succeeding outgoing president Paige Abromaitis.
"I am honored to be serving as SGA president following Paige. She had big shoes to fill. I have loved working alongside her in the cabinet this past semester, and I hope to carry on her legacy," said Huhn, who expects to graduate from Ferris in December 2022.
Huhn has learned firsthand the benefits of a well-rounded college experience that can further strengthen a positive experience for Ferris students inside and outside the classroom. Joining Alpha Xi Delta opened even more opportunities for her to learn and grow as a young adult nearing the end of her undergraduate days. Huhn is preparing to walk across the stage to receive recognition for earning her bachelor's degree at Ferris in December while considering graduate degree options.
"As SGA president, I hope to increase overall student involvement. I did not enjoy my college experience until getting involved with different organizations," said Huhn, a native of Portland, Michigan, west of Lansing. "I believe there is something for everyone here at Ferris, and I hope everyone discovers their passion and pursues it."
Nearing the end of her Ferris undergraduate experience, while exploring options for a graduate degree, Huhn speaks highly of her Ferris experience.
"Ferris is an excellent university, and I hope everyone has the opportunity and ability to love it as much as I do," she said.
The Student Government mission is to represent student interests in campus life while maintaining open lines of communication among students, faculty, administration and the Big Rapids community.