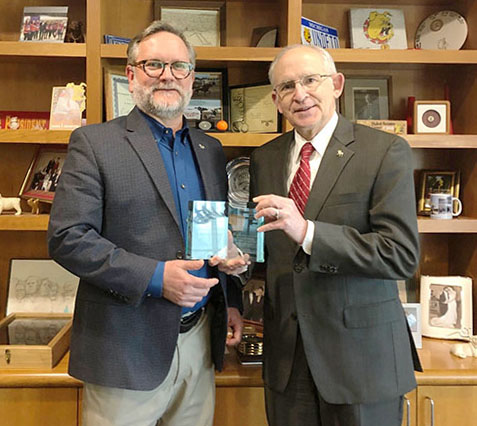 Bob Murray, Ferris State University's executive director of The Ferris Foundation, left, stands with Ferris President David Eisler, right.
Ferris State University President David L. Eisler was recognized with a special tribute at the spring meeting of The Ferris Foundation Board of Directors, held Saturday, April 23, in the University Center building on the Big Rapids campus. Chairperson Tim Murphy, a Class of 1983 alumnus who received an Honorary Doctorate of Public Service in 2019, presented Eisler with a plaque recognizing his years of service and commitment to Ferris.
"You are one of the few people in my life who I've seen that has singularly had an impact on the community, the university, and on students," Murphy said. "I am proud to be associated with you and this university, and I am proud of what we have done with this Foundation board."
Board member Jean K. Elder, who Ferris awarded an Honorary Doctorate of Public Service in 1987, spoke of Eisler as an example of a lifelong learner. Said Elder, "He has great experience; he learns from it. He is extremely resilient, with great humility, with a heck of a lot of common sense. I feel blessed to call Dave Eisler a good and faithful friend."
"This is a sunset we never wanted to see," said Foundation member Dick Shaw, a 1971 alumnus and an Honorary Doctor of Industry in 2022, about Eisler's upcoming retirement. "I want to thank you for being inclusive with students. Thanks for making students synonymous with The Ferris Foundation."
Emily (Cramer) Hancock, a Class of 1976 alumna, considers Eisler among those who have influenced her life's trajectory, "I have been so influenced by you. I am on this Board because of you, and I can't thank you enough."
"Thanks to Dave, fundraising has been the major focus for the Foundation for a number of years now," said Bob Murray, executive director of The Ferris Foundation. "Dave's commitment to supporting our students by making philanthropy a priority has pressed us to continuously improve on how we can best support the mission and vision of the university."
After serving 19 years as Ferris' 18th president, Eisler retires on June 30. Bill Pink, the current president of Grand Rapids Community College, has unanimously been approved, by the Ferris Board of Trustees, as the university's next and 19th president.