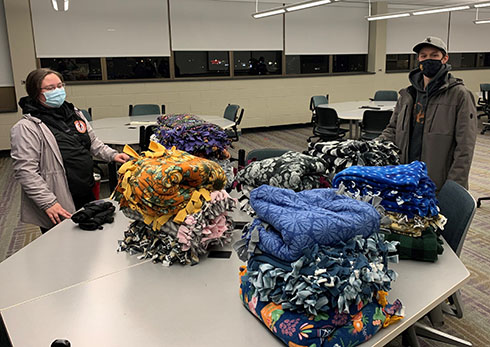 The Women's Information Service (WISE) shelter in Big Rapids received 18 blankets bound by students in the National Community Pharmacists' Association. The Ferris State University student organization hosted a "Fleece and Thank You" event during the holiday season.
Efforts made by an organization for Ferris State University Pharmacy students are helping bring physical and emotional comfort to guests of the Women's Information Service (WISE) shelter in Big Rapids.
In December, the National Community Pharmacists' Association chapter gathered more than 20 participants to bind fabric during their "Fleece and Thank You" outreach. The action produced 18 blankets that the group presented to WISE's caseworkers. Community Service Chair Tyler Kosik, a Pharmacy student from Reese, said the team based its outreach on information it found on the crisis intervention and support service's website.
"We saw that there was a need. So, we got the fleece and made time for this activity," Kosik said. "The website indicated the shelter could also use certain foods and other products for their guests. So, beyond tying the blankets, we gathered other donations which were delivered to their facility."
Clare Green is the WISE shelter manager. She said donations, including bedding and blankets, are essential to their operational abilities.
"The individuals staying with us are frequently trying to process their thoughts and find rest, as they often come to us following a deep trauma that has impacted their lives," Green said. "For some, the beds in our shelter are the first beds they have come in contact with in quite some time. When there is a warm blanket to wrap up in to help get their much-needed sleep, it can make all the difference. The Pharmacy students who donated blankets have guaranteed that touch of comfort to those who stay with us. We are so thankful for their generosity."
Ferris Assistant Professor Michelle Sahr is the advisor for the student group.