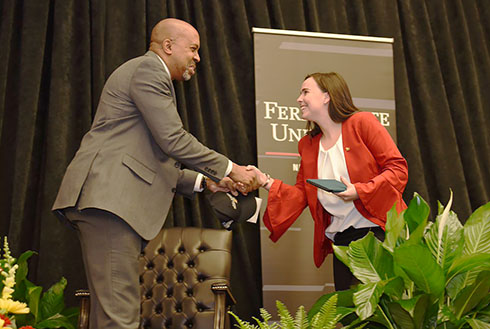 Bill Pink, the selected finalist to become the 19th president of Ferris State University, greets Student Government Association president and Search Advisory Committee member Paige Abromaitis during an announcement ceremony on Monday, March 28, in Big Rapids.
Anticipation, optimism and pride were palpable in the University Center ballroom Monday, March 28. Ferris State University Board of Trustees chair Amna Seibold announced that Grand Rapids Community College President Bill Pink is the selected finalist to become Ferris' 19th president, completing a one-year discernment and search process.
Seibold was among the trustees who served on the Search Advisory Committee recommended by WittKieffer, an executive search firm contracted to assist Ferris' pursuit of its next leader.
"We made a considered but difficult choice to hold in confidence the identities of applicants for the presidency and the comments that they made as our efforts advanced," Seibold said. "This was an exhaustive process, with healthy and respectful debate on all levels of consideration, as a field of more than 70 applicants was reduced to a field of 12, then down to our four finalists. I can say that the entire committee was dedicated to doing the best possible job in presenting these choices to the board, with our having full confidence in each of the finalists."
Also serving on the committee was Social Work chair and program director Michael Berghoef, who described his involvement as an "intense, interesting, once-in-a-lifetime experience."
"I am thrilled with the prospect of working with Bill Pink," Berghoef said. "His experience in West Michigan and the state of Michigan will be a great benefit for our students, the university and our alumni."
Associate Professor of Psychology Penney Nichols-Whitehead said she respected Seibold and fellow committee members for their candor and dedication.
"We did work, a lot, in a really diverse committee," Nichols-Whitehead said. "Amna listened carefully and respectfully; there was no guidance given or attempt to promote a candidate who did not represent the best possible prospect to lead the university. I believe Bill Pink will work hard to dampen anti-education rhetoric, while being a strong supporter of technical education. He is ideally suited for this role."
College of Health Professions dean Lincoln Gibbs offered succinct and focused praise for Pink's selection.
"We need the right person to move Ferris forward by leading the university in difficult times ahead," Gibbs said. "I am confident that Bill Pink will chart a very exciting course here."
Outgoing Student Government Association President Paige Abromaitis was among three students on the Search Advisory Committee. Following the announcement ceremony, Abromaitis, a Dryden native who will graduate in May with a Bachelor of Science in Hospitality Management, said having a hand in the process and an opportunity for a recommendation to the Board of Trustees was a rewarding learning experience.
"I was very excited to be a representative of the student body and the Student Government Association," Abromaitis said. "I feel the long hours spent reviewing our field of applicants allowed us to make the best choice, which I believe will greatly benefit the future of our university."
More details on Bill Pink and timelines related to Ferris' change in administration are available online.