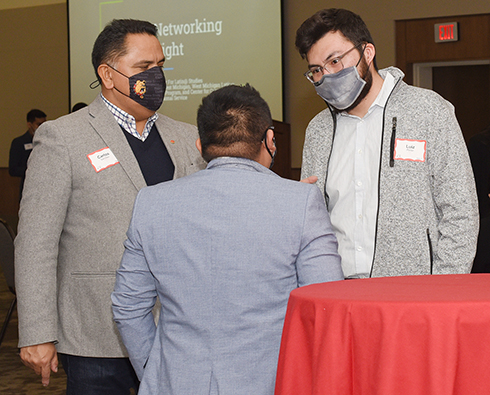 The first Latino Networking Night, organized by Ferris State University's Center for
[email protected]
Studies, took place Thursday, Feb. 17 in the University Center ballroom. A panel discussion and networking opportunities saw approximately 75 participants.
A gathering of Ferris State University Latino students, along with alumni and regional Hispanic/Latino community members, gathered on Thursday, Feb. 17, for the first Latino Networking Night, held in the University Center ballroom.
Center for [email protected] Studies Executive Director Kaylee Burke said nearly 75 participants engaged in this collaborative effort.
"We were pleased to have the support of the Latina Network of West Michigan, the West Michigan Latino Network and Leaderes, a facet of the university's Latino Business and Economic Development Center, based in Grand Rapids," Burke said. "This was a great opportunity for Latino Bulldogs to make acquaintance with mentors who look like them and who share many of the same experiences, so the students might benefit from guidance, as they become college graduates and professionals."
Berenise Alvarez, a third-year student in Communication Studies from Newaygo, called the Latino Network Night a "great event."
"It was so empowering, impactful, and simply heart-warming to me," Alvarez said. "There was so much advice, networking and resources shared with us that night. I also facilitated the panel discussion at the event. I was grateful to have the opportunity to practice leadership skills."
Burke sees momentum for a re-established Ferris State University [email protected] Alumni Association, formed and approved in 2015. Since then, it has become inactive.
"The growth Ferris has enjoyed in the number of [email protected] students and alumni in recent years has us encouraged by all that is possible, by working hard and staying together," Burke said. "We look forward to what can be accomplished by connecting with and pursuing collaborative opportunities through this group."