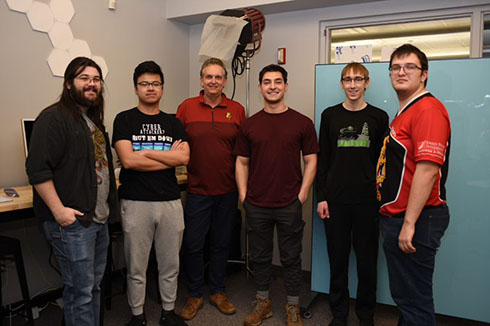 (Pictured from left to right) Information Security and Intelligence students Harrison Norkus, Louis Nguyen, Associate Professor Jerry Emerick, Nick Verhelle, Gavin Orcutt and Jacob Harrand will represent Ferris State University at "Hack The Port 22," a cybersecurity competition organized by the Maryland Innovation and Security Institute.
Five Information Security and Intelligence program students in Ferris State University's College of Business planned to focus on attack and defense scenarios rather than balmy spring weather in a Hack the Port 22 competition, organized by the Maryland Innovation and Security Institute.
Associate Professor Jerry Emerick has been working with the student group for months and will accompany the team to the Greater Fort Lauderdale Convention Center in Florida, Monday, March 21 through Friday, March 25. The Ferris team was to be one of five traveling to take part in the competition and conference on-site, with another five teams competing virtually.
"As a National Center of Academic Excellence in Cybersecurity community member, Ferris' ISI program was invited to apply for the competition," Emerick said. "There will be a scenario where a group of teams will attempt to exploit an industrial infrastructure control portal, which could, for example, be a tank of chemicals.
'Red' teams attack in this exercise, while 'blue' teams have the assignment of defending the infrastructure. The simulations are as real as possible, with teams applying their learning in cybersecurity to support the existing system, or to try and wreak havoc on the operational technology."
Emerick said Ferris' team has an assignment to disrupt operations in this competition.
"It was a competitive entry process; we are glad to be making our first trip to participate in this event," Emerick said. "There will be two days of competition among student teams, with groups of students then applying their knowledge and skills against government experts, to further the experiential learning process."
The Ferris student team includes Jacob Harrand, of Traverse City; Harrison Norkus, of Caledonia; Gavin Orcutt, of Fremont; and Nick Verhelle, of Clarkston. Louis Nguyen, of Vietnam, in the ISI Master of Science program, was to take part with the group headed to Florida. Nguyen said this competition fits with the game-based learning offered in his studies at Ferris.
"I did a significant amount of training in software security and penetration testing in my undergraduate classes," Nguyen said. "I expect the penetration testing will be a key component for our competitive efforts, which will help to build my working knowledge in these areas. Being a part of this team will be very valuable for my professional intentions."
A variety of experts from the cybersecurity field will also make presentations during the conference. The students could sit in on training boot camps and network with information security experts and professionals.