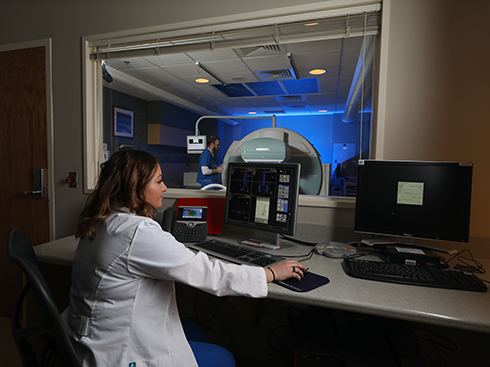 The Nuclear Medicine Technology program at Ferris State University recently learned their accreditation received a six-year continuance from the Joint Review Community for Nuclear Medicine Technology.
Ferris State University's Nuclear Medicine Technology program offered at its Grand Rapids campus has received the maximum six-year continuance of its accreditation from the Joint Review Community for Nuclear Medicine Technology. Program Coordinator Tim Vander Laan, a Ferris alumnus, said the healthcare industry's demand for their students remains very high.
"I have hospitals and clinics calling each week, hoping to be connected with our graduates and current students since there is a continual need for talent in this field," Vander Laan said. "With centers of study like the Michigan State University College of Human Medicine in Grand Rapids, that is helping to drive interest in qualified talent, which includes our Nuclear Medicine Technology students."
Vander Laan said their program has access to new technologies and a network of internship sites in Grand Rapids and across southern Lower Michigan, based on the program's stature and prominence.
"We are the only university-based NMT program in Michigan, a benefit to our students and their career interests," Vander Laan said. "Expanding technologies include using radioactive medicine, to best offer physicians imagery of their patients, to assess and diagnose their illness."
Vander Laan is the lead faculty in the Nuclear Medicine Technology program, supported by an adjunct instructor. He said there are approximately 20 College of Health Professions students in the program each year, working toward their Bachelor of Science degrees in a field where the median salary for those professionals in 2020 was $79,590.
Those with questions regarding the Nuclear Medicine Technology program can contact Vander Laan by email or call the College of Health Professions' office at (231) 591-2270.