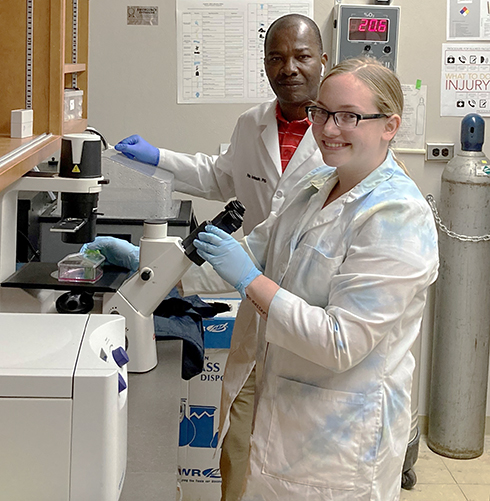 Hailey York, a Ferris State University College of Pharmacy student from Swartz Creek entering her second year of studies, is working with Associate Professor of Pharmaceutical Sciences Felix Amissah as part of the 2022 Summer Research Fellowships program on campus. The eight SRF projects end with symposium presentations in the University Center on Friday, Sept. 9.
This summer, Student Research Fellowships on the Ferris State University campus show that not all academic studies in laboratories with test tubes and autoclaves.
There are eight programs with Summer Research Fellows and Faculty Mentors underway, with Hailey York, a first-year College of Pharmacy student from Swartz Creek, donning a white jacket for her work in the Hagerman Pharmacy Building. York is supporting research into "Targeting Lung Cancer Metastasis using Ketorolac analogs and Omega-3 Polyunsaturated Fatty Acids," as supported by her faculty mentor, Felix Amissah, an associate professor of Pharmaceutical Sciences.
"I had worked in a grocery store pharmacy near my hometown. That job helped me decide what I wanted to do without presenting me a specific direction," York said. "Once I started at Ferris, it became clear there were more opportunities to pursue here, beyond becoming a practicing pharmacist."
An email sent out to first-year students regarding Amissah's research got York's attention.
"I had never taken up research in the professional sense," York said. "I volunteered about 100 hours in the 2021 fall semester to build my laboratory skills, then worked as a student employee in the labs with Dr. Amissah in the spring. This fellowship is an extension of that study, and I look forward to presenting at the Fall Symposium Friday, Sept. 9."
She noted that only one other Student Research Fellowship project focuses on the sciences, which may call for a careful telling of their findings.
"I look forward to presenting in the fall symposium," York said. "It will be interesting to structure my message so that it can benefit the learning of my SRF peers."
York said while she intends to complete a Doctor of Pharmacy curriculum at Ferris, she is considering pursuit of a doctorate with the Van Andel Institute.
"That would be through a dual enrollment arrangement," she said. "My Ph.D. would most likely be in Cellular and Molecular Biology. If I had not responded to that first email, I never would have gained from all the experiences that followed for me."
Another current Student Research Fellowship program is "Identifying the need for business education in rural central and northern Michigan," a study being mentored by Leslie Sukup, an associate professor of Management. Her Research Fellow is Amanda Vondra-Speltz, a Business Administration student from Boyne City.
"I knew this was a passion of hers, so when a promotion for Student Research Fellows was offered, I pitched the idea to Amanda and she agreed," Sukup said. "This is a true experimental study, where we survey employees, half of whom will then be provided business education videos."
Sukup said their hypothesis holds that in their follow-up survey process, a majority responding will report the content was valuable, giving them greater job satisfaction, which should cause improved operations for their employers.
"Regardless of our result, we expect to follow up with our Business Innovation and Lean Center. We hope to offer our findings to small business journals and make a presentation for the Michigan Economic Development Association," Sukup said.
The cross-campus involvement in the 2022 SRF program also includes these studies:


Student Research Fellow: Jessica LaGrand, of Battle Creek, a Communication Studies student
Faculty Mentor: Debra K. Courtright-Nash, Arts, Sciences and Education; English Literature and World Languages Project: Discourse Analysis of Cross-Curricular Career Community (C4) Program Faculty Conversations


Student Research Fellow: Zaria Dankins of Newaygo, Building Construction Technology
Faculty Mentor: Jennifer Miller, Engineering and Technology; Construction Technology and Management
Project: Renovation and Restoration Advancement Lab Pilot
Program
Student Research Fellow: Brooke Mehney, of DeWitt, an Architecture and Sustainability student
Faculty Mentor: Kate O'Connor, Engineering and Technology; Architectural Technology and Facility Management
Project: Methodologies for Social Impact on Communities
Student Research Fellow: Caitlin Coppess, of Montague, an Applied Mathematics student
Faculty Mentor: Luis Rivera, Arts, Sciences and Education; Physical
Sciences Project: Canonical Approaches to Triatomic Molecules
Student Research Fellow: Molly Culver, of Three Rivers, a Psychology student
Faculty Mentors: Jim Van Treese and Christopher Richmond, Arts, Sciences and Education; Social and Behavioral Sciences
Project: Self-Identified Visual Distress in College Students
Student Research Fellow: Devin Moore, of Traverse City, Master of Social Work Program
Faculty Mentor: Janet Vizina-Roubal, Arts, Sciences and Education
Social Work Project: Teaching Trauma Therapy via Strategic SIMulated Scenarios