A Bachelor of Science degree in Professional Esports Production coming online at Ferris State University has wide-ranging applications. Beyond the participants and viewers of electronic gaming competitions, a program coordinator said instructional focus centers on service in esports entertainment.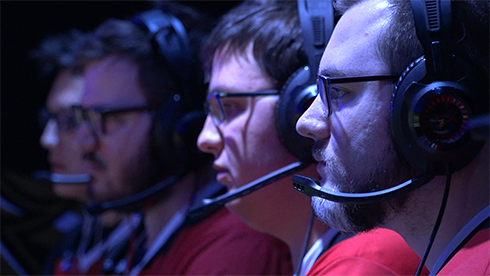 Ferris State University is welcoming the new Bachelor of Science in Professional Esports Production coming online as a wide-ranging opportunity in Fall 2022.

Varun Singireddy, chair of Professional Esports Production, has been developing this curriculum. He is working with Andrew Peterson, interim director of Elearning, and Jonathon Eaton, course pro and Esports coordinator, from Ferris' Extended and International Operations department. Singireddy said while establishing this program, opportunities for cross-disciplinary learning and production are potential avenues available to the students and explore further concentrations as positions become more prevalent in the industry.
"With Ferris well established in Digital Animation and Game Design instruction, we can lean on that expertise to help our students learn the advanced elements for user interface design, media production and motion graphics. This is what clients want for their advertising, interactive content, and other messages," Singireddy said. "We are purveyors of augmented reality, so the vast nature of the digital world means we can offer components desirable beyond just entertainment media such as simulations in healthcare, the military, architecture, and more."
Singireddy said Esports 100 is the first program class offered during the Fall 2022 semester. He further noted a faculty member added to their tenure-track program instructors.
"As we grow our program, we will use the talent in the Television Digital Media Production program, along with Digital Animation and Game Design, to broaden the curriculum," Singireddy said. "These programs allow us to develop students' skills in graphic design, video editing, motion graphics and post-production that are valuable to the gaming industry, as well as those 'content creators' looking to build their audience on platforms like Twitch TV and YouTube."
Content creators include experienced professionals in popular video gaming who look to engage legions of followers. Singireddy explained Ferris' Professional Esports Production's role in that process.
"Since our coursework is entirely online, the program has real potential to be completed anywhere in the United States," Singireddy said. "We are proud to be the first in Michigan to offer learning that focuses on production aspects of competitions and the vlogging of influencers."
Singireddy also noted value-rich outcomes for students.
"We believe our curriculum will be valuable to students interested in supporting live streamers or becoming professionals in media management," Singireddy said. "Influencers want and need the overlays, branding and user interfaces that can make their content more accessible, which increases the attention they receive on their respective platforms."
Professional Esports Production will be in the new Center for Virtual Learning. In addition, the new building will include Ferris' Esports Arena, a component of the new-age, competitive realm.
"The Professional Esports Production is an exciting, cross-disciplinary degree program, which we plan to deliver fully online. The esports market is emerging as a fast-growing industry with careers in the many related professions," said Bobby Fleischman, provost and vice president for Academic Affairs. Fleischman, after approval by the Board of Trustees, initially estimated as many as 20 students would enroll in the program during year one, beginning in Fall 2022, and 60 by year three. "This degree program fits nicely with the construction of the Center for Virtual Learning and provides Ferris with a competitive advantage over our Michigan counterparts, as well as an opportunity to offer this degree online to an expanded cohort of students regionally, nationally and beyond."
In recent years, Ferris has developed an engaged and active Esports community, despite a lack of facilities intentionally designed for that purpose.
"We have had Ferris students, whose individual productions have gained over 500 followers on Twitch," Singireddy said. "Our Bandwidth Bowls have drawn hundreds of followers, and the numbers have grown since that event started in 2019. Our Esports club has more than 450 participants, and our teams compete in registered leagues in Michigan and nationally.
Singireddy added, "We plan to outfit the arena with the screens and hardware necessary to support 12 to 24 gamers in competitions for games such as Valorant, Overwatch, League of Legends, Rocket League and more. As many as two competitions could be held simultaneously."
Singireddy said it is important to remember that Esports is more than electronic entertainment for players of any age. Offering a degree to train professionals in the production aspects of Esports competitions and providing support to professional gamers and content creators is quickly becoming a credible avenue of commerce.
"Because the necessary equipment to present Esports events can be available easily in Southeast Asia, they have a very strong market in place," Singireddy said. "North America has a significantly strong esports population compared to Europe, and with all these countries capable of fielding Esports groups, the competitions are global in scope. To show what kind of money is involved in these competitions, $42 million in prizes are likely in The International, the 11th annual Dota 2 world championship, when it takes place this fall in Singapore. The game developers and digital distributors can offer viewers something magical."
Beyond the traditional involvement from Esports developers, Singireddy said gambling interests are also aware of how these competitions can serve as a resource for their industry.
"Some countries are hoping to get into the presentation of tournaments and permit wagering on the events," Singireddy said. "As these new opportunities present themselves and become part of the global Esports landscape, we hope to have students fully capable of serving as professionals in the established and emergent disciplines."
Finally, Singireddy said the demand for electronic content of all kinds will benefit Professional Esports Production students with the imagination to develop interactive digital content and find interested audiences.
"The content can be as basic as a cooking demonstration, or a more technical presentation, or discussion related to the Esports field," Singireddy said. "This is a busy world of participation, branding and competitions, and we hope to train our students to be in the position to support and heighten the viewer's experience capably."