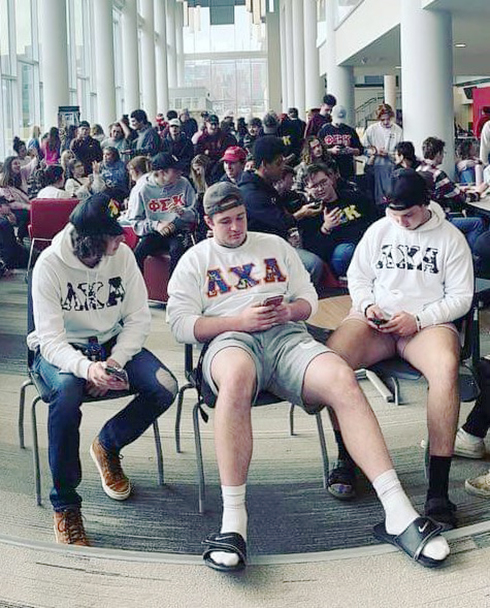 Greek Life Trivia was among the events held during Ferris State University's 2022 Greek Week, which raised more than $1,500 to support worthy organizations. The Phi Sigma Sigma Foundation and a regional nonprofit, Open Arms Advocacy Center in White Cloud, were the recipients of those funds.

A newly-organized regional nonprofit and a national fraternal organization are the beneficiaries of fundraising taken up by Ferris State University's Interfraternity Council (IFC) and the Panhellenic Council in 2022 Greek Week activities.
Associate Dean of Student Life Nicholas Campau said these organizations started the week gradually by turning in penny jars Monday, April 4, at the Center for Student Involvement offices and wrapped up their schedule with participation in The Big Event Saturday, April 9. The total raised through a chili cook-off, Greek Life Trivia and other opportunities was more than $1,500.
"The Epsilon Beta chapter of Phi Sigma Sigma was the winner of Greek Week, which allowed them to present half the donations received to their national foundation," Campau said. "Our Greek Week Student Planning Committee determined the Open Arms Advocacy Center in White Cloud would receive the rest of these funds."
Phi Sigma Sigma Vice President Allison Leslie, a Biology/Pre-Medicine major from Midland, explained their choice.
"We donated to the Phi Sigma Sigma Foundation because of their focus on advancing women's education," Leslie said. "As women in college, we hope to encourage other women to pursue an education and the Phi Sigma Sigma Foundation helps them accomplish that."
Child Protective Services regional spokeswoman Stephanie Mack explained the Open Arms center is a collaborative facility that serves Mecosta, Osceola, Lake and Newaygo counties and the Newaygo County Council for the Prevention of Child Abuse and Neglect. Earlier in the academic year, Television and Digital Media Production Associate Professor Nick Kuiper produced a video to assist the center in raising funds to establish this operation.