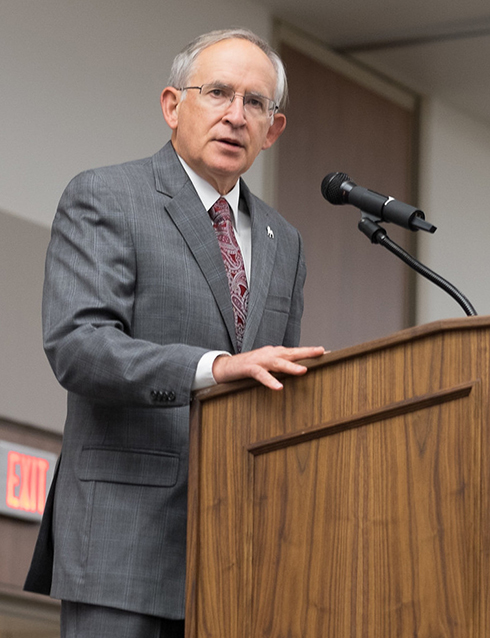 Ferris State University's Board of Trustees voted to rename the University Center building, on its Big Rapids campus, in honor of David L. Eisler, who is retiring as Ferris' 18th president after more than 19 years.
The Ferris State University Board of Trustees has voted to rename the University Center building, on its Big Rapids campus, in honor of David L. Eisler, who is retiring as Ferris' 18th president after more than 19 years.
The board action occurred during a special virtual meeting on Wednesday, June 29, and featured the renaming of the University Center as the "David L. Eisler Center." Eisler described this recognition from the board establishing a lasting legacy with the University Center, as "the greatest honor of his life."
"I am humbled, shocked and overwhelmed. I have always thought that students are at the center of the university experience, and it is especially meaningful for me that this building which is dedicated to students, be named in my honor," said Eisler, who started as Ferris president in July 2003 and is preparing to finish his presidency on June 30. "When we were building the University Center, we intended to create a gathering place where students could connect and where students would stay on campus to build community. The University Center has become the crossroads of our university."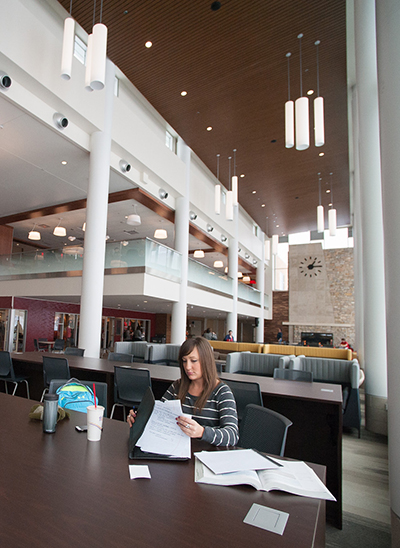 Shown here is an interior photo inside the newly-renamed David L. Eisler Center, formally known as the University Center.
Board of Trustees Chair Amna Seibold said the board could not think of a more fitting tribute to Eisler than to rename the University Center, the David L. Eisler Center.
"Since becoming president, Dr. David Eisler has given his heart and soul to Ferris and its students, and the Board could not think of a better show of appreciation and recognition than naming the University Center for him," Seibold said. "The Center is the focal point for student engagement, becoming such an integral part of the Ferris experience. Dr. Eisler's tenure as president truly embodies the Center's mission and objectives, and we couldn't be more pleased that his legacy and commitment to students and the Ferris community will forever have a place on the Ferris State University campus."
Supporting student success at Ferris, Eisler has championed university philanthropic efforts, including leading a successful first-ever comprehensive campaign that exceeded the initial goal of $80 million and raised more than $125 million ahead of schedule. Additionally, in 2019 Dave and his wife, Patsy, established the Norris and Irene Johnson Scholarship Endowment to assist former foster care youth pursuing a bachelor's degree at the university.
During his presidency, Eisler has been instrumental in strengthening the university's infrastructure with more than $400 million in construction projects throughout his tenure. The renovated University Center building officially opened on Monday, Jan. 12, 2015. The $34 million renovation project included significant enhancements to an area of more than 6,000 square feet. The Christman Company construction management firm handled the renovation based on designs from Neumann/Smith Architects to create a modern-style building. Originally constructed in 1957, the former Rankin Student Center had significant subsequent additions in 1960 and 1987.
A highlight of the renovated University Center was the Quad Café. This dining area includes an all-you-can-eat cafeteria-style section and a food court section with diverse food options. Other renovation features include replacing furniture, fixtures, equipment and several fireplaces. Above the main fireplace in the Rankin Atrium is repurposed limestone off the Masselink residence halls, and the clock is a replica of the original.
In additional action, the trustees approved and ratified the collective bargaining agreements between the board and Unit I, non-supervisory and the Unit II, supervisory public safety officers. The contract is in effect through June 30, 2027.
"We are delighted to reach five-year agreements with both of these public safety groups," Eisler said. "Our officers are an incredibly important part of our university, and we appreciate the great work they do."
The current trustees are chair Amna P. Seibold, of East Grand Rapids; vice-chair Ana L. Ramirez-Saenz, of Caledonia; secretary Rupesh K. Srivastava, of Wixom; member-at-large LaShanda R. Thomas, of Grosse Pointe; George K. Heartwell, of Newaygo; Kurt A. Hofman, of Grand Rapids; and Ronald E. Snead, of Stanwood.
The next regular meeting of the Board of Trustees is Friday, Oct. 7, 2022, in Grand Rapids. Committee meetings begin at 10 a.m. followed by the full board meeting at 11 a.m.