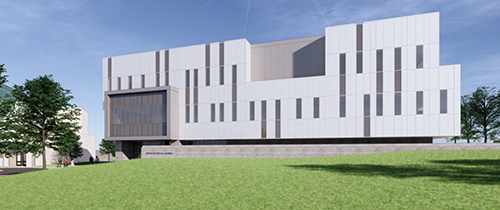 Shown here are conceptual drawings of the future Center for Virtual Learning at Ferris State University. The building's construction is expected to be completed by April 2023.

A new graduate degree program with significant potential for various career paths will be available at Ferris State University starting in the fall of 2022, as the Master of Science in Data Science and Analytics has recently launched, with early interest from prospective students.
Yong Xu, an associate professor of Data Analytics in the College of Business Marketing Department, expects working professionals and recent graduates to be among their students for face-to-face instruction in Big Rapids and fully online.
"This degree has a huge potential, with great value for those students who take up this learning area," Xu said. "We offer concentrations in Autonomous Vehicles, Business Intelligence and Project Management, and so there are suitable applications for students earning their Bachelor of Science degrees in Information Systems, Information Technology, Math, Actuarial Science, Computer Science, Artificial Intelligence, Software Engineering, Finance, Accounting, Information Security and Intelligence, Biology, and Engineering, among others."
At a December 2021 meeting of Ferris' Board of Trustees, Provost and Vice President of Academic Affairs Bobby Fleischman said that "Corporate partners continue to express the need for graduates with a background in programming, data understanding, data preparation and segmentation or clustering using the most relevant programming skills and best existing software."
Xu said data scientists are the top jobs cited by employment research publications in the last several years, with a median salary of about $120,000 annually.
"We had more than 15 students expressing their interest in our master's program before any marketing efforts," Xu said. "We feel confident that our first class of Data Science and Analytics students will be around 15, with the likelihood of an additional 10 per year, so that 30 to 40 students annually are progressing toward their degrees."
Xu noted a significant collaboration with other colleges on campus, as Data Science and Analytics will be based in the future Center for Virtual Learning, which is under construction with a scheduled completion date in Spring 2023. "We will have much stronger interactions with programs such as Artificial intelligence, Information Systems, Information Security and Intelligence, Cyber security, E-sports and the like," he said.
"There are currently three faculty members, Elies Kouider, Yong Xu and Mohamed Abusharkh, who will be lead instructors in our program, with a fourth to join the group later at the beginning of the Spring 2023 semester," Xu said. "Some of the likely synergies resulting from this learning would be working with students from Project Management, Applied Math and possibly Healthcare Informatics with the College of Pharmacy."