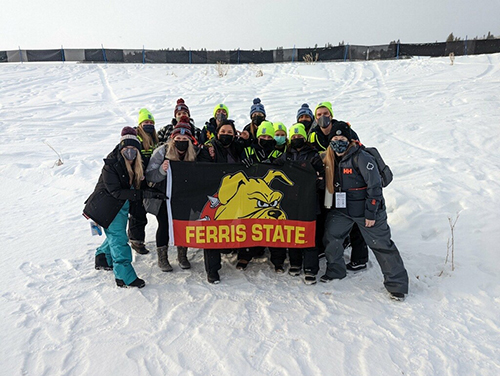 Eleven Ferris State University students have returned from their duties supporting the ESPN Networks and Aspen Ski Company during the X Games Aspen at Buttermilk Ski Resort.
Eleven Ferris State University students from the College of Business and other programs have returned from their duties supporting the ESPN Networks and Aspen Ski Company during the X Games Aspen at Buttermilk Ski Resort.
The elite ski and snowboard competitions took place from Friday, Jan. 21 through Sunday, Jan. 23. This trip represented the second tour of duty for Emma Franklin, a senior in Hospitality Management from Vermontville.
"I worked with the social media team this year. So, I went in with some familiarity, as I have been social media manager for Auxiliary Services in Administration and Finance at Ferris for two years," Franklin said. "I do all kinds of content creation for various campus operations, but at X Games, there were managers to help structure our message. We had pre-written documents, as there was great concern about assuring the content that went out."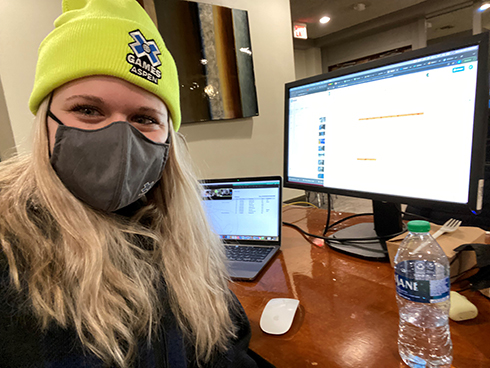 Emma Franklin was one of the Ferris State University students that traveled to Colorado to work the X Games.
Franklin presented a Facebook post that earned more than 3.5 million views, a unique and exciting result from serving in her role at the X Games.
"It dealt with the gold medal announcement for Andri Ragettli, a ski slopestyle competitor from Switzerland," Franklin said. "He's one of the most popular performers in his sport, and we had boosts that corporate sponsors paid for to spread the message on his win. It was very satisfying to be part of distributing a message with that kind of impact."
A guest services participant from Ferris also left Aspen with an award. Nic Rice, a junior in Hospitality Management from Holt, received the "Impact Award."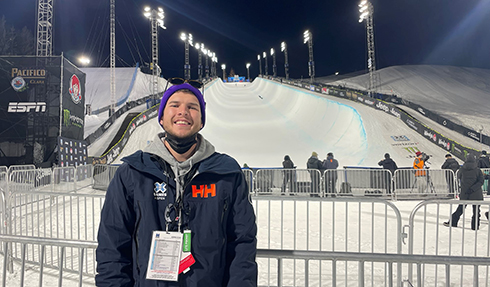 Nic Rice was one of the students who traveled with the Ferris group to Colorado for the X Games. Nic also won an award for his work.
"We were arranged in two teams. One group would spend its morning at the competition venue to greet and admit parents, coaches and support personnel based on the access permitted for their credentials," Rice said. "The rest of a day's work would then take place at a 'will call' station where we would process VIP credentials, which included verifying the vaccination status of those guests and distributing the appropriate wristbands. This was a fantastic opportunity where you get out of it what you put in. The teaching staff put us in front of incredible industry professionals who would love to offer their knowledge, advice, and recommendations on jobs. They are excited to see new faces interested in the industry and hungry to learn."
In previous years, concerts were held at the resort, but Rice said the relocation to Belly Up Aspen, a venue in the city, served in the interest of guests' health and safety.
"The exception was a one-song performance of 'Green Juice' by rapper ASAP Ferg," Rice said. "As to my Impact Award, the nominations come from co-workers in any department, and I was pleased to be recognized for having the venues where I worked at their best."
In the Spring 2021 semester, Rice interned at Boyne Mountain, where he offered snowboarding lessons. In 2020, he took part in a mixed-delivery Ski Recreation Management course at that venue.
"Now, I build on those experiences by having seen operations in another state, which opened up this industry to me," Rice said. "There were resort operators throughout the Rocky Mountains on hand. I met some fantastic people. To work with them would be a great opportunity. I can envision returning to the X Games in different seasons or other countries."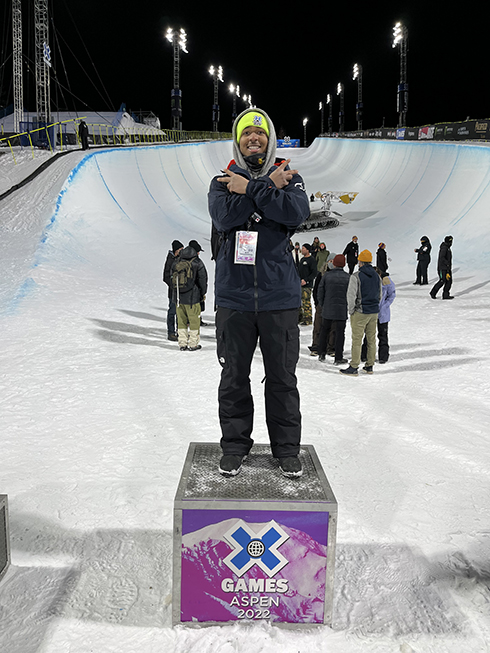 Jamal Bohanan put his public relations skills to work during his trip to Colorado to work at the X Games with fellow Ferris students.
Jamal Bohannon, a senior from Southfield studying Public Relations, saw Aspen and Colorado for the first time and experienced downhill on a snowboard before traveling back to the Ferris campus.
"I have used a ripstick on pavement, which was of some benefit," Bohannon said. "I had a few falls, but it was a fun experience."
Bohannon worked in media credentialing in his public relations role, which saw a limited response because of the pandemic.
"In previous years, there would be around 300 reporters, photographers and others to support," he said. "There were 50 to 60 of these guests to work with this year. We had to ensure their vaccination status, before issuing credentials appropriate to their accessing fields of play, specific venues, or the ability to go where they chose."
Once the media received their credentials, Bohannon observed the team working under ESPN's Senior Director of Communications Danny Chi.
"There were 15 to 20 of us in our team, but we learned a great deal seeing how the post-event interviews were set up for the media, as well as how medal ceremonies were organized," Bohannon said. "This was a great opportunity to build my resume. It will be something that will get the attention of employers as I prepare for professional life after I graduate this fall."
Assistant Professor Karyn Kiio accompanied the Ferris group, representing nearly half of the student worker contingent from six schools in six states.