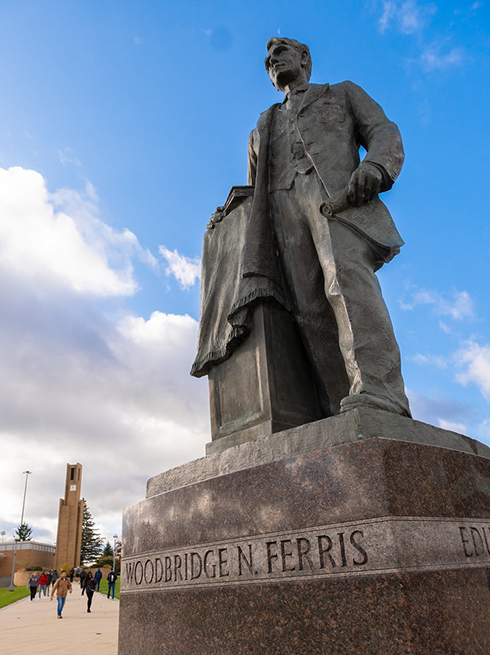 Ferris State University instructors in the Social Work and Master of Social Work program supported student internship experiences and prepared for graduates' advancement in service.
The rapid advance of the COVID-19 pandemic's first wave in early 2020 brought about a sea change in college education. Ferris State University instructors in the Social Work and Master of Social Work program supported student internship experiences and prepared for graduates' advancement in service.
Social Work Chair Michael Berghoef said the sudden absence of face-to-face exchanges between social workers and clients because of potential health concerns meant technology became a crucial element of therapy.
"We have been promoting telehealth for approximately 10 years, trying our hand at video conferences and working on ways to offer service, when distance or other obstacles arose," Berghoef said. "Whether that communication could create a therapeutic relationship was the question educators and professionals had to consider. Now we see that mode of support being put to use every day."
Carrie Thompson, an associate professor, is the program director for Ferris' Bachelor of Social Work program. Thompson said interns were well into six-month assignments when curtailment and closures went into place in March 2020.
"Our efforts to provide that experience were going on at the same time the agencies were working out their ability to keep in contact with clients," Thompson said. "We wanted to support them as they devised and revised their best practices in a changing platform of service. To say the least, the last 20 months have been very interesting for professionals, educators and students."
Berghoef said the Council on Social Work Education, the accrediting body for Ferris' Social Work programs, was one of many assets in helping educators work through the challenges to provide valuable experiences for students.
"We are so grateful to be part of a generous professional community," Berghoef said. "The Council on Social Work Education was very responsive and worked diligently to structure fieldwork regulations for interns that took their health and learning into account. While the clichés of 'new normal' and 'post pandemic' have come about and persist, the offers of help and thoughtful suggestion flow to us by email from across the social work landscape. Their potential solutions and offers of support are gracious as we work as a group of professionals to shape responses on a global scale."
"I am so thankful for the various social work Listservs and the immediate and compelling responses from my peers since COVID began," Thompson said. "It keeps you from feeling like you are on an island, trying to tackle an immense problem.
Our students know the entire global social work community is collaborating on serving those with needs, including students who seek to join them in the field. I let my students know their 'What's next?' concerns are on the mind of those in every phase of our vocation. We are grateful the way forward is being addressed by a community, including students who intend to stand fast with their intentions and convictions, so those in need receive the counsel and support they require."
Berghoef and Thompson said the programs' mission to develop leaders in this field means making an exemplary commitment to advising students throughout their campus pursuits and development as counselors through their internship experiences.
"Our advising culture was an asset before the pandemic and remained a hallmark of our program," Berghoef said. "We want our students to look past their concerns and also see themselves as contributors to the larger mission of securing community solutions."
Added Berghoef, "The pandemic has brought on a multiplier effect in clients seeking support for substance use and abuse, the incidence of violence in partner relationships, and societal concerns stemming from race relations. While our alumni and students work to help individuals address these obstacles, they know there is support from the counseling community, that they are not alone."
Key relationships have made a significant difference.
"We have a strong relationship with those agencies who take our students as interns, which joins with our faculty's backgrounds in offering client counseling and advising, so those on internships can succeed in this formative part of their education," Thompson said. "The collaborative community we have established at Ferris, in more than 30 years of accredited Social Work instruction, is an asset we have relied upon, especially in the continued timeline of the pandemic."
While some physical and mental health professionals are leaving their career paths because of emotional exhaustion, Berghoef said recent trends linked to the number of inquiries about Social Work programs are encouraging, and the same is true for Ferris.
"Not everyone who considers the study required of a therapist or counselor enters a Bachelor of Science program or registers for a Master of Social Work," Berghoef said. "We know that growing attention to and emphasis on matters of social justice have given more students the idea that they could be part of an effective change by learning to be counselors and social workers. We hope to encourage and support those prospects in any way possible."