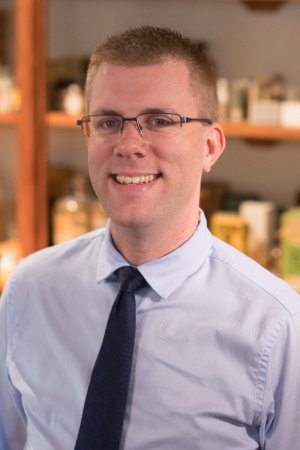 Eric Nybo
College of Pharmacy Associate Professor Eric Nybo received good news earlier this year from the United States Patent Office. Equally pleased by the second patent issued solely to Ferris State University are the state-funded mentors and the entities that provided financial support to study and develop a genetically-modified host organism capable of expressing an anthracyclinone or potent chemotherapy drug.
Word that a patent for "genetically-modified host organism for expressing an anthracyclinone analogue, method associated therewith, and synthetic nucleic acids" came about two and a half years after the United States Patent Office acknowledged the first filing on Nybo's research.
"In 2018, I received an ADVANCE Proof of Concept Grant from the Michigan Economic Development Corporation, a state-supported program that is managed by Michigan State University's Innovations Center," Nybo said. "As part of that funding to further my research, I was connected with Bruce Auerbach, who has three decades of pharmaceutical industry experience, which includes shepherding two drugs to clinical trials. The other mentor-in-residence from the Technology Transfer Talent Network (T3N), Karen Studer-Rabeler, offered expertise in discovering potential customers for this organism so that the technology might achieve commercialization. I continue to receive help from the T3N mentor network and consultations are a most valuable part of this collaboration."
"Intellectual property protection, such as patents, is an important component of life science commercialization," Studer-Rabeler said. "I, and my T3N colleagues, look forward to helping Eric and his team advance this process, so that this life sciences technology might reach its full potential to impact human health."
Nybo agreed the current phase of this project is another opportunity to collaborate and advance the process. His lab is further developing this technology with an RUI (Research in Undergraduate Institutions) grant from the National Science Foundation Directorate for Engineering.
"We entered the first round of customer discovery for this technology, with help from TreMonti Consulting, LLC," Nybo said. "It is exciting to be at the point of discussing the project with pharmacy executives and researchers, exploring options for our work."
MEDC University Relations Director Denise Graves said it is exciting to see Nybo's technology continue to advance toward commercialization.
"Ferris has come a long way in supporting this type of research for faculty, which is paying off with additional projects in the pipeline, continued follow-on funding, and issued patents," Graves said. "A supportive and collaborative statewide university network, access to mentors and targeted matching funds provide exactly what researchers need to bring their technologies to market."
Nybo's study and other investigative activities on the Ferris campus receive support from the Office of Research and Sponsored Programs, a unit within the university's Academic Affairs division.
"We are indebted to the support of MEDC and Denise Graves, and colleagues at MSU's Innovations Center and the University of Michigan's Center for Innovative Partnerships," ORSP Director Thomas Dowling said. "I have enjoyed working with MEDC since 2016 to develop this partnership. Collaborating with these R-1 programs allows us to tap into resources that would not ordinarily be available for faculty at smaller, primarily undergraduate Universities."
A requirement for receiving any MEDC-based grants or mentorship support is an invention disclosure on file with the host university. Ferris currently has two other patents in development with MEDC support, including Daniel Taylor, from the Michigan College of Optometry, and Sonali Kurup, from the College of Pharmacy.
The information described in this news release is covered under U.S. Patent No. US10,980,817 to Ferris State University (inventor Nybo, S.E.). This material is based upon work supported by the National Science Foundation under Grant No. ENG-2015951 (to S.E.N). Any opinions, findings, and conclusions, or recommendations expressed in this material are those of the author(s) and do not necessarily reflect the views of the National Science Foundation.