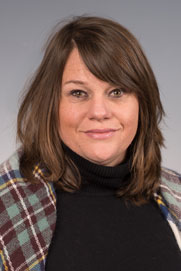 Lisa Ortiz
Professionals overseeing housing for higher education in Michigan, Ohio, Indiana and Illinois have presented Lisa Ortiz, Ferris State University's Interim Director of Housing and Residence Life, with their Dr. John E. Collins Distinguished Service Award. The honor became official during the Great Lakes Association of College and University Housing Officers' Annual Conference.
Ortiz said that though she was not at the session in Fort Wayne, Indiana, she quickly learned of the honor last year.
"Peers began texting me during the closing banquet while a friend recorded the acknowledgment of my award and the 'presentation,'" Ortiz said. "It is such a thrill to be recognized by this group, whose conferences I began attending while I was a resident assistant at Central Michigan. GLACUHO was and is a very formative element in my professional life."
After her undergraduate studies, Ortiz earned a Master of Education in Higher Education-College Student Affairs Leadership from Grand Valley State University. She began a 20-year career in residence life leadership, including her directorship of Residential Programs and Services at Ferris.
"I am so honored to have been nominated for this award by two former Ferris employees, who worked with us in Housing and Residence Life, along with our current hall directors here on campus," Ortiz said. "They are all peers in my field, which is a great feeling to be thought of so well by professionals who continue to collaborate as we support and serve our students."
Ortiz became interim director of Housing and Residence Life at Ferris, following former director Bryan Marquardt's retirement. As the Spring 2022 semester begins, with COVID-19 protocols still top of mind for those in programming at the university, Ortiz said residence hall staff remain committed to offering students enriching programs and gatherings, emphasizing participants' health safety.
"We want our students, in the residence hall system and elsewhere, to know their place as a campus community, as we strive to re-engage them," Ortiz said. "We are working hard to get students out and to enjoy each other's company safely, to help build a sense of belonging."
GLACUHO celebrated its 50th year of operation in 2021. Ferris hosted their annual conferences in 1987 and 2007.