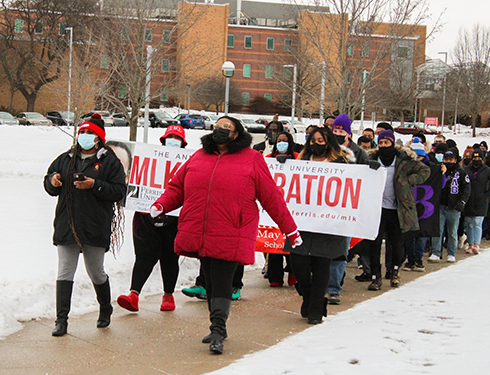 Here is an image from the annual Freedom March as part of Ferris State University's 36th annual Martin Luther King Jr. Celebration Monday, Jan. 17.
Ferris State University began its 36th annual Martin Luther King Jr. Celebration on Monday, Jan. 17. Around 100 mask-wearing students, administrators, faculty, staff and community members gathered near the Rankin Center Atrium for the annual Freedom March.
Ferris President David Eisler read a passage from a King speech and noted that young or old, anyone with conviction and courage can impact society.
"Dr. King was just 26 when he organized the boycott of the bus system in Montgomery, Alabama to protest segregation inherent in rules riders faced, there," Eisler said. "He was a co-founder of the Southern Christian Leadership Conference just over a year later and continued his advocacy throughout his 30s. Dr. King was a man who believed in the power of the human spirit."
Vice President for Student Affairs Jeanine Ward-Roof encouraged the audience to take action against injustice or discrimination.
"We should have the courage to do the work that Dr. King exemplified, with his life and principles," Ward-Roof said.
Vice President for Diversity and Inclusion David Pilgrim said nonviolent resistance King employed to protest injustice is an effective response in any situation.
"Change can be incremental," Pilgrim said. "It is important that we recharge, working to be a positive resource in our society, through participating in symbolic marches and taking actions to benefit others."
The day's activities concluded with "A Conversation With Joan Trumpauer Mulholland," an award-winning civil rights advocate whose life choices included participating in lunchroom sit-ins in Jackson, Mississippi, as she attended the historically black Tougaloo College nearby.
"As a young girl, I wanted that gold star in Sunday School, their award for memorizing Bible verses," Mulholland said. "' Do unto others…' and 'Love thy Neighbor,' I took those messages seriously. Having visited the South in those days and understanding what I saw there, I resolved to help make that region the best place it could be."
The MLK Celebration at Ferris began with a morning in-service for faculty and staff. Academic Support Center and Structured Learning Assistance Supervisor Karen Royster-James received the Dr. Martin Luther King Social Justice Award. The last activity on the celebration schedule is the annual Student Tribute, offered on Zoom beginning at 6 p.m. Wednesday, Jan. 19.