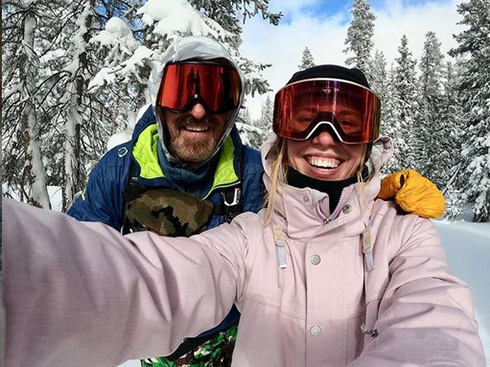 Pictured here is Ferris State University Class of 1989 alumnus Steve Kalapos, left, with his daughter Zoe Kalapos, right. Zoe, of Vail, Colorado, will compete for Team USA in the women's halfpipe snowboarding event in the 2022 Winter Olympics near Beijing, China. (Photo courtesy Zoe Kalapos)
A happy gathering of Ferris State University alumni from Colorado, Michigan and other states will tune in for Olympic snowboard competitions in February with special interest. Zoe Kalapos, a Vail, Colorado native, professional snowboarder and daughter of 1989 College of Business graduate Steve Kalapos, is one of four competitors in women's halfpipe for the U.S. team.
"I found out on Tuesday, Jan. 18 that I was on the team, though official word was not released by Team USA until that Friday," Zoe said. "This is kind of crazy to process in terms of achieving a life's dream. My other accomplishments in World Cup competition are great, but this feels unbelievable, surreal, in a way. I am so proud to be able to represent the United States in Beijing."
Kalapos had recently returned to Vail from Laax, Switzerland, having competed in one of the final World Cup events before the Olympics. She will head to Los Angeles for processing, then on to China, where the 2022 Winter Olympics will have opening ceremonies on Friday, Feb. 4.
"The other women in halfpipe, Chloe Kim, Maddie Mastro, Tessa Maud and myself are already a close group," Kalapos said. "We all travel together for World Cup events. So, I am really looking forward to competing with them."
The halfpipe is perhaps the most famous event in snowboarding. While Kalapos has never competed at the site for the '22 Winter Olympics, her international experience will serve her well on behalf of Team USA.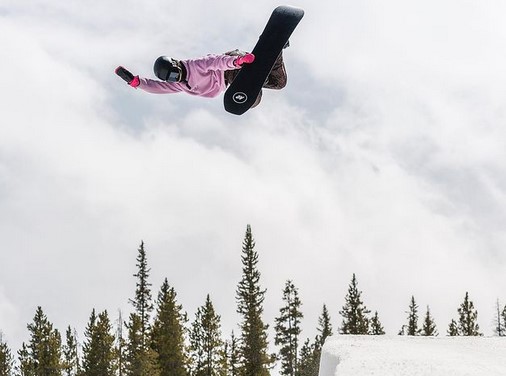 Zoe Kalapos of Vail, Colorado, the daughter of 1989 Ferris alumnus Steve Kalapos will compete for Team USA in the women's halfpipe snowboarding event in the 2022 Winter Olympics near Beijing, China. Here she is shown displaying her talents. (Photo courtesy Zoe Kalapos)
"Generally, a halfpipe is very close to 22 feet on each side, though there is always some aspect of its construction that means it will be a unique ride at each venue," she said. "From what we have heard, the pipe is a good one, and conditions are setting up well. We are really hoping for a good showcase as a team, where we can do our best riding."
Steve Kalapos, who earned his Bachelor of Science in Marketing, with an emphasis in sales, said as a Northern Lower Michigan native, he was an avid snowboarder and his children very much took to the sport.
"We spent many hours at Michigan resorts as a family, which led to winter weekends traveling regionally, as Zoe and our son, Ian gained experience in competitions," Steve said. "When they were 13 and 10, respectively, we moved to Vail to support their opportunity and have the longest possible training season."
Steve was philosophical about restrictions that mean he will be in Vail, watching his daughter on a global competitive stage.
"As it goes, Zoe will be in the Olympic Village, and our experience tells us that there is not much opportunity to be together during competitions, beyond those moments immediately after her event," Steve said. "We have been available as much as possible for Olympic qualifiers in Aspen, and Copper Mountain in Frisco is less than a half-hour from home. We also watched the event at Mammoth Mountain in the Cascade Mountains and the final qualifier in Laax, Switzerland. Even when it is from a distance, we have really enjoyed the experience."
Steve said he is a proud father whose daughter's success and opportunity bring attention from friends far and near.
"As we speak, word has been out only a few days, but I have been seeing texts and getting calls from people I have not heard from in some time," Steve said. "Social media groups for Ferris alums and others have been full of support. We are ready to host a big watch party during the halfpipe, with many Ferris friends from Colorado and Michigan all planning to be part of that gathering. For Zoe and for ourselves, this will be the opportunity of a lifetime."
The halfpipe qualification round for women will air on the NBC Network Tuesday, Feb. 8 at 8:30 p.m.
Another Ferris alumnus will be a competitor in Beijing, as former Bulldog goalie Pat Nagle is a member of the U.S. men's Hockey team.