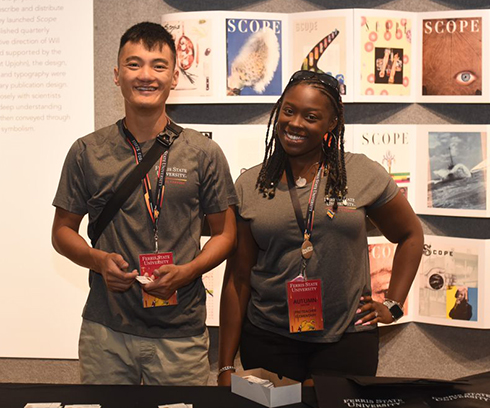 An express orientation session will be held on Thursday, Aug. 25, for those first-year and transfer students intending to begin studies at Ferris State University in the Fall 2022 semester. It will start at 8:45 a.m. in the David L. Eisler Center, formerly the University Center.

Collaboration between Ferris State University's Office of Admissions and the Office of Housing and Residence Life offers convenience for students intending to enroll as first-year or transfer students during the final orientation session before the Fall 2022 semester on Thursday, Aug. 25.
Assistant Director of Orientation Emily Hicks said incoming students can complete an express orientation session and move into their residence hall or apartment on or after Aug. 25.
"As of early August, 131 students are signed up to participate that day," Hicks said. "Comparing that figure to recent late orientation sessions, this will be our largest wrap-up event in the last several years, which is exciting."
More than 900 students completed their onboarding activities through Ferris' orientation sessions in June and July. Hicks said campus leaders were pleased by that result.
"With our return to on-campus orientation sessions following the pandemic, that response from new students was very encouraging," Hicks said. "The feedback about efforts to register and acclimate our newest Bulldogs has been largely positive. Our survey findings have shown all elements of orientation scoring better than four out of five, which is so satisfying."
While sessions earlier in Summer 2022 ran from mid-morning to late afternoon, Hicks said the Thursday, Aug. 25 orientation will focus on critical elements for incoming students.
"They will have the opportunity to complete processes in the David L. Eisler Center (formerly named the University Center), then head to their residence halls for move-in. We will start orientation at 8:45 and conclude the session at 11 a.m.," Hicks said. "In an express fashion, we can 'enRoll out the welcome mat' for these students, providing them contacts with the Office of Financial Aid, securing their place to live from Housing and Residence Life, while they complete requirements for their Ferris ID card."
A scheduled Aug. 18 was canceled to focus on the Aug. 25 express orientation with an opportunity for incoming students to move into their designated on-campus residential facility.
Students interested in enrolling for Fall 2022 classes at Ferris can contact the Admissions office through a live chat on its homepage, by email or by calling (231) 598-8210.