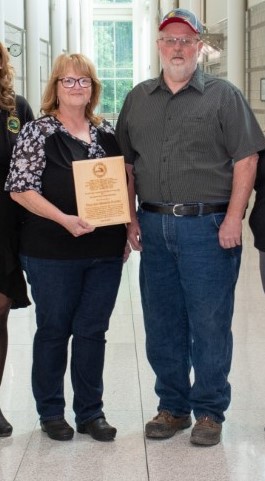 Ferris State University employees Melanie and Paul Mulder were presented the Partners in Conservation Award by Michigan's Natural Resources Commission on Thursday, June 9. The Mulders are off-road vehicle enthusiasts who have adopted a 55-mile trail network near Harrison and organized a clean-up event on state land near St. Helen in Roscommon County.

Work is demanding for Ferris State University's Assistant Director of Financial Aid Melanie Mulder and her husband Paul, a grounds crew member in Facilities Management. Their spare time endeavors, however, recently brought them the Partners in Conservation Award from Michigan's Department of Natural Resources and the state's Natural Resources Commission.
"We are in the woods a lot, using off-road vehicles and as a result, we find many illegal dump sites," Melanie Mulder said. "We learned from the DNR that clean-up for these sites is not the responsibility of a particular agency or state department. So, we decided to get involved."
One of their greater efforts was collaborating with recreational vehicle clubs on social media to bring about a clean-up project in St. Helen, an ORV "hot spot" in Roscommon County.
"The Wicked Jeeps organization really turned out for this event, helping us to bring 150 vehicles onto the trails to haul away the trash and waste that had been dumped there," Mulder said. "The DNR's 'Adopt A Forest' program will bring dumpsters in to collect materials if we make an effort to organize volunteers. There were multi-generational family groups taking up a problem they had not caused, which was gratifying to see."
Mulder said 31,000 pounds of trash were carted away from the trails near St. Helen, along with 208 old tires.
Paul and Melanie Mulder also have adopted a 55-mile section of trail that courses through Clare, Missaukee and Roscommon counties, near Harrison.
"Part of the work the program calls for includes clearing brush, so there is a trail at least 50 inches wide," Melanie said. "We also put in signage along the trail, so users can stay on the right track and have a better ride."
The Mulders were welcomed to the NRC meeting on Thursday, June 9, to receive the Partners in Conservation Award.
"It is important that we present some good from those who enjoy motorized recreation in Michigan," Melanie said.