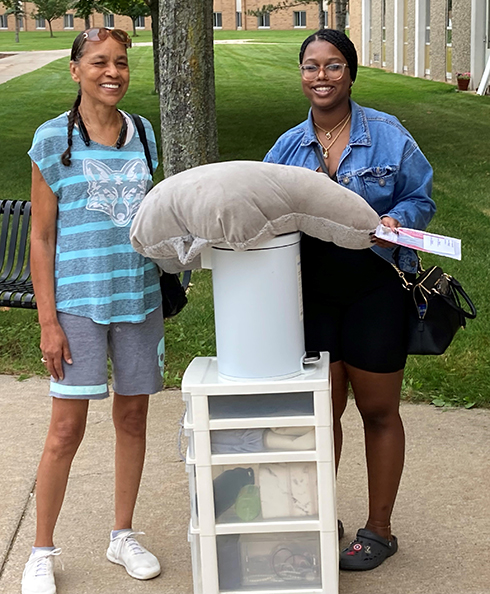 Zsa'ria Naves (right), a freshman in Ferris State University's Nursing program, prepares to move into her room in Cramer Hall. A four-day move-in process began Thursday, Aug. 25, ahead of the 2022-23 academic year's start on Monday, Aug. 29.

The first of Ferris State University's Move-In Days for students readying for the 2022-23 academic year came Thursday, Aug. 25. Cloudy skies and occasional light rain posed no difficulties for hundreds of excited young adults with their families and friends.
Zsa'ria Naves, a freshman Nursing student from East Grand Rapids, navigated from the Jim Wink Arena and sign-in activities to Cramer Hall, where she began the steady advance to a room up high in the tallest building on campus. Naves said a visit to Ferris confirmed her desire to continue her education in Big Rapids.
"When I came here, I really liked the campus and environment," Naves said. "It seemed like a very good place for me."
Naves will be sharing a room with a high school classmate.
"I hope to get to many events so that I can make more friends here," Naves said. "I look forward to the classes and activities available on campus."
Housing and Residence Life Director Lisa Ortiz watched calmly as the mid-morning crowds grew outside the Ewigleben Sports Complex. Students had signed up for their time to arrive at Jim Wink Arena to receive their keys and instructions from the Housing and Residence Life staff and supporters before heading to the appropriate building.
"I am very pleased by all the efforts to support the move-in process," Ortiz said. "It is also very satisfying to have so much collaborative assistance from campus partners, who offer student employment opportunities and other resources as the school year begins."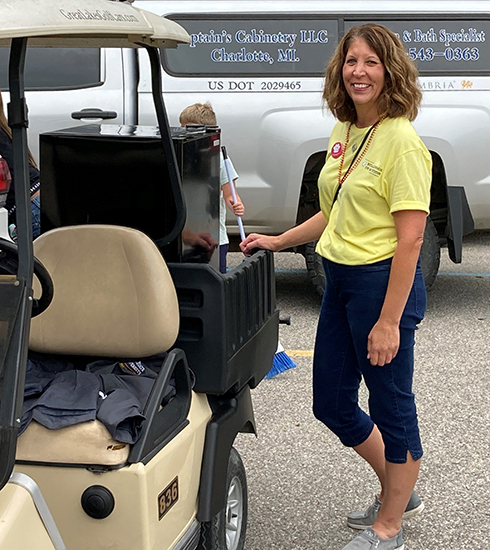 Donna Eaton, a secretary in the Extended and International Operations division of Ferris State University, offers her assistance as a Bulldogs in Action volunteer. Ferris students joined faculty and staff in greeting arriving students on Thursday, Aug. 25. Eaton was offering shuttle service near Cramer Hall.

Bulldogs in Action volunteers were active near the residence halls and other facilities that were scheduled to open first. Donna Eaton, a secretary in Extended and International Operations, shuttled goods in a utility cart from the parking areas near Cramer Hall to the building's entryway.
"This is the first time I have volunteered for Bulldogs in Action," Eaton said. "I love the excitement of the beginning of the academic year. So, I wanted to help the students move in. I have enjoyed meeting and helping them today."
Housing and Residence Life properties in the central and northern areas of the Ferris campus will be part of day two of the Move-In Days process on Friday, Aug. 26.
The arrivals continue on Saturday, Aug. 27, and Sunday, Aug. 28, based at each residence hall or other facility. Classes for the 2022-23 academic year begin Monday, Aug. 29.