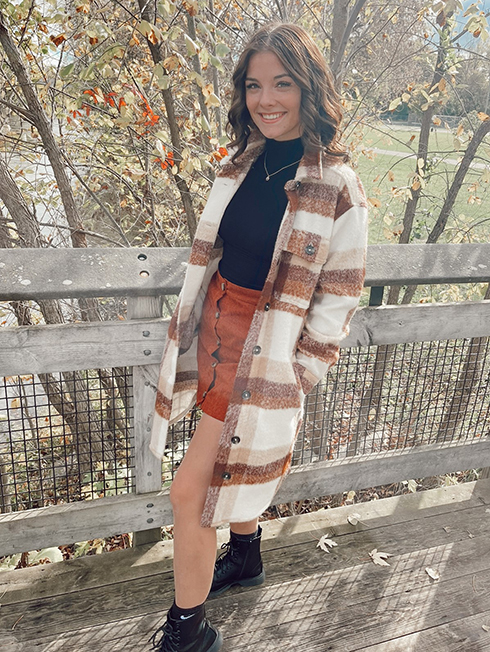 Chloe Flora is pursuing a Bachelor of Science in Criminal Justice at Ferris State University. She is also a member of the Ferris Youth Initiative Johnson Scholars program, a supportive community for alumni of the state's foster care system.

The academic year ahead will be active for Chloe Flora, with three years invested in Criminal Justice studies taking her from Macomb Community College to Ferris State University.
Flora is forthright about her status in the Ferris Youth Initiative Johnson Scholars program, a community of alumni from the state's foster care system now pursuing their academic and professional goals on the Big Rapids campus.
"I am so grateful for the support I have from people in the program and throughout the university," Flora said. "It is an encouraging environment where we can share our emotions, and I have made friends with similar experiences."
She further acknowledged times that her childhood and adolescence come to mind as she interacts with fellow students and members of her sorority.
"At times, I have feelings as I walk across campus that I have been singled out," Flora said. "The FYI Johnson Scholars community helps so much when that occurs because being with them is like being at home. It is like I am with other people who give off the same energy."
Students in the Johnson Scholars program can also relate to mentors from the university's faculty and staff. In Flora's case, Michelle Rasmussen, the communications officer of the President's Office staff, is a big help.
"She is amazing. Michelle helps me know that my support system extends beyond my FYI Johnson Scholars friends and my sorority," Flora said. "When we meet, she asks about my academic and personal needs, like those conversations someone might have with a parent. I know Michelle is someone I can go to who is entirely supportive and ready to contribute so that I can succeed. I am so grateful for that."
Flora said she is looking into a minor in Psychology to complement her Criminal Justice studies as she considers internship opportunities and career options on the way to completing her degree. Until then, Flora will stay busy.
"I don't have to worry about my situation, though I work full time and take a full schedule of classes," Flora said. "There are certainly some struggles to face, but I know I can accomplish everything that I need to because there are people who care about me here."