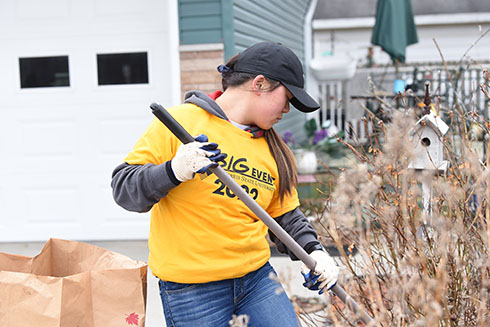 The Big Event, a traditional student-organized volunteer opportunity, is one example of the outreach offered by Ferris State University registered student groups, athletic teams and individuals throughout the year.
According to the Center for Career and Professional Success, a portion of the hours spent outside the classroom, laboratory, and studies at Ferris State University find students giving back to the Big Rapids community through various volunteer efforts.
CAPS Assistant Katie Thomas said an exact estimate of student participation levels is difficult. She noted many student organizations and groups either offer help in annual events during the academic year or make their support outreach.
"For example, The Big Event, which Student Government hosts, has hundreds of students participating in community service," Thomas said. "Greek Life organizations have a significant place in volunteering at Ferris, but athletic teams and hundreds of individuals also contribute in special events or regular responses at nonprofits and other operations and organizations in greater Big Rapids."
Thomas said many student volunteers speak of the satisfaction they receive from offering their efforts and skills to others. She added the university could provide a tangible reward for that handiwork.
"Initiative 125 calls for volunteers to track their service hours so those amassing 125 hours or more during their time at Ferris can be recognized for that contribution," Thomas said. "We have a Woodbridge N. Ferris Service medallion for successful participants, which they can wear with their cap and gown at commencement."
Thomas noted community agencies, churches and other groups that reach out to her office seeking opportunities to work with area students and bolster their operations.
"We make referrals to potential student organizations to try and meet their volunteer requests," Thomas said. "Our students are encouraged to consider their field of study to see how they might apply that learning to local organizations. Then, they can benefit by making contributions and gain valuable career experience."
Ferris students are encouraged to review Bulldog Connect, a resource on the university's website that can offer more information about organizations looking for their help. Thomas is available for questions by email or through the CAPS office at (231) 591-2685.
"It is safe to say that thousands and thousands of volunteer hours are offered each year," Thomas said. "We are grateful that every participant and group makes that choice our founder, Woodbridge Ferris, spoke of, 'to make the world a better place.'"