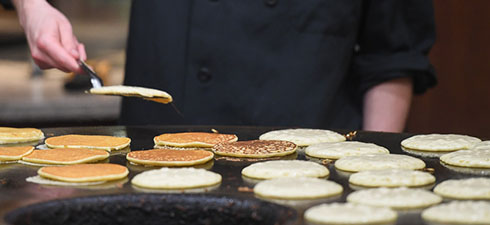 Pancakes with the President is set for Monday, May 2 in The Rock Cafe at Ferris State University.
The traditional exam week opportunity for Ferris State University students to enjoy a meal and gather with peers, Pancakes with the President, is set for Monday, May 2, at The Rock Cafe. President David Eisler and fellow university officials will host the event, an opportunity for students to engage the retiring president.
Outgoing Student Government Association President Paige Abromaitis is honored to assist in planning this event and looks forward to next year's event with a new president, Bill Pink. The current president of Grand Rapids Community College, Pink was announced as the selected finalist to become the next Ferris president. The Board of Trustees will vote on Pink's appointment on Friday, May 6, in Big Rapids. As Ferris prepares to change presidents, the tradition of Pancakes with the President continues running strong.
"Pancakes with The President will take place the first evening of exam week, Monday, May 2, from 8 to 10 p.m.," Abromaitis said. "It'll be at The Rock Cafe. There will be pancakes at this event, and we will have ice cream, a toppings bar for your pancakes and a photo backdrop for photos."
Pancakes with the President features its traditional pancakes and sausage. Other options include ice cream and toppings and gluten-free and vegan options.
"Student Government will also have a table at this event where they will be doing a gift card giveaway and promoting their organization. This event is dear to my heart because this will be President Eisler's 'final flip' as he will be retiring this June after 19 years at Ferris," Abromaitis said. "I have enjoyed being able to work with him throughout my time as student government president, but he will surely be missed. The new student government president, MaeLynn Huhn, will have a great time planning the event with our new president."
"Come eat some delicious pancakes, eat some ice cream, possibly win some gift cards, and say thank you to President Eisler at Pancakes with The President," Abromaitis added.