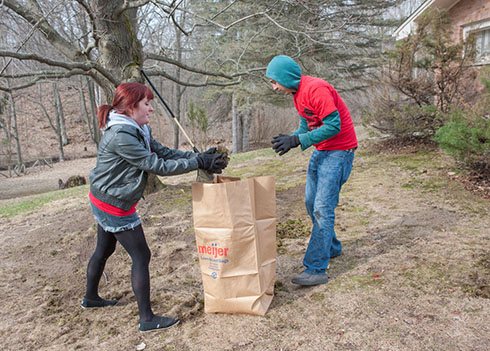 The BIG Event, Ferris State University's student-run community service project continues its traditional outreach on Saturday, April 9.
More than 110 residences in the Big Rapids area will see willing and capable Ferris State University students volunteering for various service projects on Saturday, April 9. The BIG Event returns and continues as a student-run community service project hosted by the Student Government Association and supported by the Dean of Student Life office.
The Bulldog Connect platform has approximately 400 students registered to take part, according to Doug Verellen, Student Government's director of philanthropy.
"Many Greek Life organizations and registered student groups from degree programs in various colleges have signed up teams for this year's event," said Verellen, a Dental Hygiene major from Bellaire who represents the College of Health Professions in Student Government. "Most resident requests seek help in raking lawns or doing other gardening or simple grounds work. We have also been asked to do some painting. One group will clean a goat barn."
In the interest of efficient and safe equipment exchange for those volunteers, Verellen said that The BIG Event organizers plan to use a drive-through arrangement in the parking lots east of the College of Business building from 9 to 10:30 a.m. on April 9.
"Our student teams will already have a map to identify the home where they will volunteer," Verellen said. "Their assignments will begin at 11 a.m. and should be wrapped up by 4 p.m., or when the work is completed. Saturday is the end of 'Greek Week,' so we stand ready to collect the rakes and tools in the drive-through lots and let these volunteers get on with their weekends."
For more information on The BIG Event, email Student Government or call (231) 591-2611.