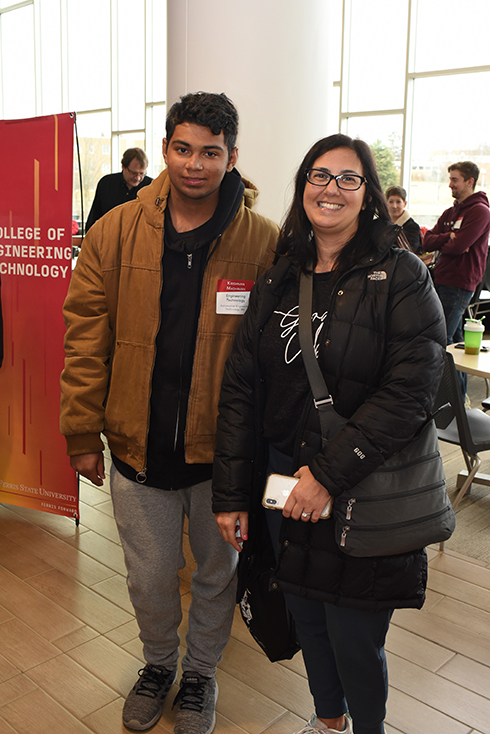 Krishnan Madhavan and his mother, Filis, prepare to depart Ferris State University's Rankin Atrium to tour the Automotive Building during an Admitted Student Open House Saturday, April 9.
Hundreds of students with families and friends gathered in the University Center on Saturday, April 9. Ferris State University's Office of Admissions hosted its second Admitted Student Open House, in a newly structured process for those considering or planning to begin studies in the Fall 2022 semester.
While initial engagement with students now takes place virtually, Emily Hicks, Ferris' orientation coordinator, said the open house event presents a traditional welcome to the Big Rapids campus.
"It is wonderful to provide these students the campus visits they have been clamoring for even though circumstances to assure health and safety meant we could not offer that opportunity in the last couple of years," Hicks said. "Through our first open house session and this one, we have welcomed over 800 registrants, representing more than 450 students and their guests. It is above and beyond the participation levels we had in 2019. So, it is a pleasure to provide the exposure and information about Ferris new students have been seeking."
The open house was their first visit to campus for some in attendance. Krishnan Madhavan, however, was excited about his third Big Rapids visit. This time, he traveled with his mother, Filis, and a suitemate, which began in Franklin well before dawn.
"I am looking to get more information about Automotive Engineering Technology, as I became aware of the program about a year ago," Madhavan said. "I have some practical experience with cars since I tore apart and rebuilt a 2009 Mazda for my sister to drive."
Following college meetings, the open house participants explored during a resource fair that offered details of on-campus services and other enterprises. Participants also had optional sessions for admissions, the Center for Student Involvement, Ferris' Housing and Residence Life operation and Financial Aid. Madhavan was pleased to advance the process of starting at Ferris.
"I will be getting lined up with my first semester of classes and the other information that will help me prepare for the fall," Madhavan said.
Now that two full-capacity sessions are complete, Hicks said the final open house for admissions is set for Saturday, April 23, with a Dawg Days program. Dawg Days is geared toward high schoolers and transfer students interested in Ferris to get their first exposure to university programs and the Ferris campus.