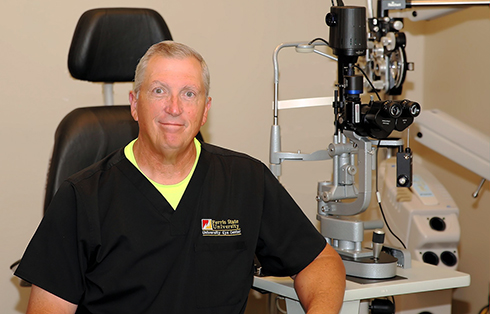 Dr. Phil Walling
The selection is an honor, but Dr. Philip Walling, a professor in Ferris State University's Michigan College of Optometry, needed some convincing to accept that Newsweek placed him on a roster of America's Best Eye Doctors 2021.
"I very much thought it was a 'come-on' from a promoter that might include my name in a Who's Who publication or a similar concern," Walling said. "Not long after I received first word of this, a former student let me know he had seen my name in Newsweek. I am humbled to be recognized by a leading national publication."
The list of 150 optometrists and a like number of ophthalmologists came about through research involving more than 10,000 professionals in eye care and treatment. The study goal was to identify those doctors in the country's 20 most populous states who had the most respect from their peers in three categories: quality of care they provide, the continuity of care and the quality of the technology they use in their practices. Walling ranked in the top third of the roster of 150 optometrists, with duties at the MCO as chief of medical and surgical service.
"My teaching addresses all areas of ocular disease, with my clinical practice emphasis being focused on pre and post-operative care and treating patients with glaucoma," Walling said. "I work with a specialist from Grand Rapids Ophthalmology, with some of our procedures taking place at the MCO, including laser surgery following cataract surgery."
Walling began as a member of the MCO faculty in 1994 after earning his Bachelor of Science in Biomedical Science from Western Michigan University and Doctor of Optometry from the University of Houston. Walling also taught at the University of Houston's University Eye Institute and developed his instructional philosophy while serving in private practice and multiple institutional and clinical settings.
"At this point in my career, I often teach based on my experiences and stress what our students can learn by actively listening to patients and speaking with them, with full compassion," Walling said. "Every patient comes to us with great concern about maintaining or regaining their ability to see well."
The Michigan Optometric Association named Walling as its Educator of the Year in 2000, 2015 and 2017. Walling said that is a significant honor since student voting determined the selection.
"It's very pleasing to have earned that recognition over time," Walling said. "Such awards really serve as a reminder to keep striving for excellence. I know I am just one member of a great faculty team here at MCO. My peers never miss an opportunity to provide our students the best possible learning and range of experiences."
Walling has further contributed to the Ferris community, serving 20 years as a volunteer assistant coach for the Bulldogs' men's and women's golf teams. He said another aspect of contributing to the program included working with team members who served as ticket takers at various athletic events.
"That was a significant fundraiser for the golf program, which I was happy to support," Walling said. "It was a great way to see people, watch the Bulldogs compete and be a part of the larger campus community."
Read more from the Newsweek rankings.