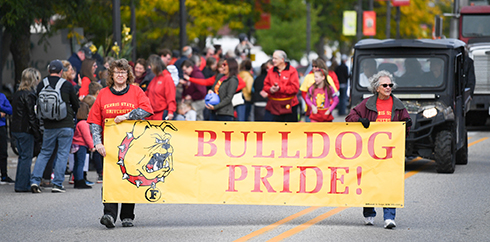 Ferris State University's Homecoming day is set for Saturday, Sept. 25 on the Big Rapids campus. Events for the Homecoming celebration include the parade through downtown Big Rapids to campus.
A one-week schedule of activities on the Ferris State University campus will welcome students, alumni, faculty, staff and other friends beginning Saturday, Sept. 18, as the 95th Homecoming celebration builds off the theme "Bulldogs Back to Campus."
While many popular in-person events return, Director of Alumni Relations Brandi Behrenwald said some of the virtual offerings developed in 2020, because of the COVID-19 pandemic, will continue in 2021. These virtual events include the Virtual 5K, which participants should complete the week before Homecoming day on Saturday, Sept. 25.
"It was very popular. So, we listened to those who loved last year's event and suggested that it be offered annually," Behrenwald said. "Alumni and other participants found it was a great way to connect with others. We are sending runner's numbers and other regalia to our participants, with hopes of even more participation this year."
There will be two days of University Center celebration on Thursday, Sept. 23, and Friday, Sept. 24. Alumni Association gatherings include heralding Golden Eagles from the classes of 1970 and 1971, with the second evening reserved for Fall Reunion tributes for two years' worth of Alumni Award recipients.
"This schedule allows us to emphasize participant health and safety while giving each honoree the attention they are due," Behrenwald said. "We are so glad to make certain these true Bulldogs are celebrated in person through these events in the UC Ballroom."
Ferris students are encouraged to vote for Homecoming Ambassador candidates from Monday, Sept. 20 through Thursday, Sept. 23. Nick Smith, the activities coordinator with the Center for Student Involvement, said the Ambassador program began in 2019, with student voting results comprising half of the 150 points possible for a junior or senior with a robust social media presence and documented engagement in the campus and community.
"Our ambassador will receive priority registration for the Spring 2022 semester and a $500 scholarship," Smith said. "Their duties will include participation in such events as the Torchbearer Awards Ceremony, Entertainment Unlimited offerings and the 2022 Homecoming Parade."
The Student Homecoming Committee will welcome comedian Whitney Cummings on Wednesday, Sept. 22, for a 7 p.m. appearance in Williams Auditorium. Smith said organizers were pleased to make a "big get" to resume this Homecoming week tradition on campus.
"Whitney has done a number of stand-up special performances so that she will be familiar to our audience," Smith said. "They may not be aware she was a creator of the sitcom 'Two Broke Girls,' which continues to air, following its network run. She also starred in her own project, 'Whitney,' around that time."
Entertainment Unlimited will host a student stand-up competition to allow the winner to be the opening act that evening. Students can purchase one $10 ticket at the UC Information Desk. Public ticket offerings for Cummings' show begin Monday, Sept. 20, at $25 per ticket.
The Homecoming Committee will also offer a free showing of "The WaterBoy" on the Dewaine V. and Jana B. Robinson Quad Thursday, Sept. 23 at 8 p.m. and a pep rally Friday, Sept. 24 from 9 to 11 p.m. in the University Center.
"We will start up the football theme with our movie on the Quad Thursday evening," Smith said. "There will be live music, and we will have giveaways at the pep rally Friday. It is easy to be excited about Ferris football, with the great start to the season."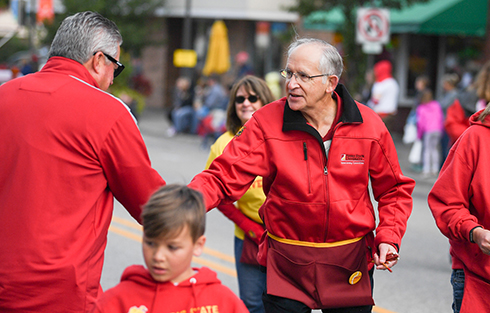 Rather than make his traditional trek in the Ferris State University Homecoming Parade Saturday, Sept. 25, President David Eisler and his wife Patsy will serve as Grand Marshals in the event beginning at noon on Michigan Avenue. The theme for the 95th Ferris Homecoming is "Bulldogs Back to Campus."
On Homecoming Saturday, a 5K run/walk starts the day, a color run offered in collaboration with University Recreation beginning at 8 a.m., then the Homecoming Parade in downtown Big Rapids, at noon. President David Eisler and his wife, Patsy, are this year's Homecoming Grand Marshals in his final Homecoming event before his retirement.
"People really want the in-person experiences. We will adhere to all regulations pertaining to masking to promote participant safety," Smith said. "The students and staff on our Homecoming Committee are excited about this week of activities, and we are honored to have President Eisler and his wife as full participants."
Behrenwald said Alumni Relations is collaborating with more than a dozen groups in the area west of Top Taggart Field that are hosting reunions, tailgate-area celebrations or informational gatherings, beginning at 11 a.m.
"Many groups are very excited about getting back and active, having this opportunity to connect with their supporters and new friends," Behrenwald said. "Reunion Row will be easily the most active gathering ever, in my experience. We are glad to offer something for all ages."
The Ferris football team has something of a schedule oddity in their Homecoming contest, as they face the Davenport Panthers in the first of two regular-season meetings, with the game set to begin at 3 p.m.
Learn more about Homecoming 2021 events for alumni and for students.