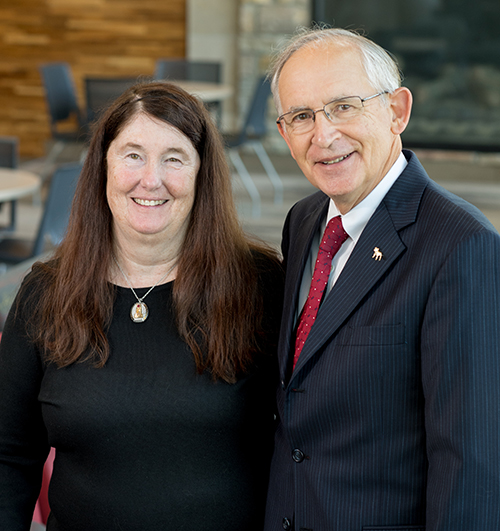 Patsy and David Eisler
Venturing into the greater community is second nature to Ferris State University President David Eisler and his wife, Patsy. This time, the Eislers will have a special opportunity to continue in that vein this coming Saturday, Sept. 25, when they serve as grand marshals for Ferris' 2021 Homecoming celebration.
President Eisler came to Ferris in 2003 and recently announced his intention to retire in June 2022. Traditionally, he walks the Homecoming parade route, often accompanied by his wife to greet those in attendance along Michigan Avenue in downtown Big Rapids. This year, the Eislers said they greatly appreciate the opportunity to participate in a different capacity as grand marshals.
"Patsy and I are both surprised and honored to be chosen as the Homecoming grand marshals this year," said Eisler. "We both love the traditions of Homecoming at Ferris and look forward to participating in the parade each year. There is just something special about seeing everyone come together to celebrate Ferris in this way. This will be a very special day for us."
"Bulldogs Back to Campus" is the theme for Ferris' 95th Homecoming celebration. Homecoming includes a busy schedule of events on the university campus or virtually starting Saturday, Sept. 18. The parade, which begins at noon on Saturday, Sept. 25, typically includes floats, first responder units and marching bands. In addition, the Bulldog football team, ranked second in the nation in Division II, has designs on continued success in its annual Homecoming football game, which this year is against Davenport University at 3 p.m.
For more information, read the Homecoming 2021 news release.