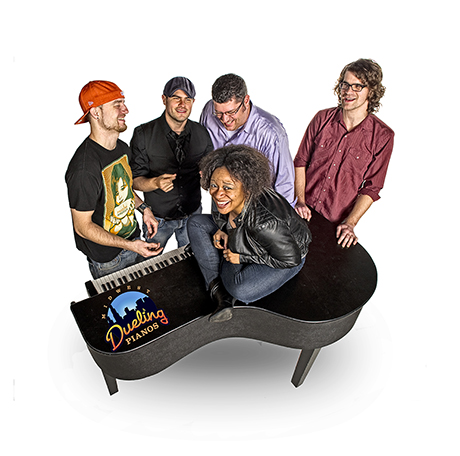 Midwest Dueling Pianos will play audience requests and stir up the crowd on the Robinson Quad of Ferris State University Friday, Sept. 10, beginning at 8 p.m. The Student Organization Center, Activities and Career Services, Entertainment Unlimited and the Music and Entertainment Business program are event co-sponsors.
A collaborative effort enlisting Ferris State University's Music and Entertainment Business program and the Entertainment Unlimited registered student organization will present Midwest Dueling Pianos, beginning at 8 p.m. Friday, Sept. 10.
Activities Coordinator Nicholas Smith, with the Student Organization Center, said this is a return engagement for the performance group. In the interest of student safety, their musical comedy program is set for the Dewaine V. and Jana B. Robinson Quad.
"Audience members can suggest their favorite songs, whether it is a pop, rock or rap tune, and the dueling pianists will present it," Smith said. "It has proven to be a favorite for our student audiences and offers them a new experience, to hear such music coming from the pianos. The fun grows when these young performers coax people onto the stage with them, to dance, take a microphone or perform a skit in the program."
Smith said the Finance Committee of Ferris' Student Government Association allotted Student Activity Fees to offer this free event, open to the public.
"This is a strong contribution to the Bulldog Beginnings schedule of events and a way for Entertainment Unlimited to become more widely known across campus," Smith said. "We are grateful to the Music and Entertainment Business students, who will offer their skills in audio and lighting for greater audience enjoyment."
Anyone seeking more information regarding the Midwest Dueling Pianos performance can contact Entertainment Unlimited online.