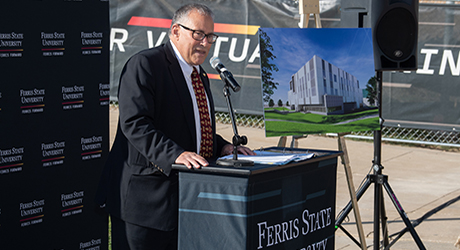 Provost and Vice President for Academic Affairs Bobby Fleischman speaks during the groundbreaking ceremony for the future Center for Virtual Learning at Ferris State University on Thursday, Sept. 2 in Big Rapids.
With former residence halls on the Ferris State University campus razed during the spring and summer of 2021, the process pushes forward with the Center for Virtual Learning construction. The $32 million facility will be home to several technology-focused academic programs on the Big Rapids campus.
Current construction costs have university officials in the Planning, Design, and Construction area of Administration and Finance reviewing all elements affecting CVL project costs while awaiting full construction authorization from the Michigan Department of Technology, Management and Budget.
"Market volatility, as it relates to building materials, has affected our ability to award all necessary contracts for the Center for Virtual Learning," said Joe Haupt, Ferris' senior project manager, facilities management.
Ferris hosted a groundbreaking for the Center for Virtual Learning as part of Founders' Day activities, on the Robinson Quad, on Thursday, Sept. 2.
The future Center for Athletic Performance is a $15.3 million project designed to create enhanced strength and conditioning areas, additional meeting spaces and additional locker rooms that benefits all 17 teams and hundreds of student-athletes. The project also features a new Bulldog Arena and connector. The future facility also features conference rooms, a recruitment room and a new entrance to the Ferris Athletics offices and reception area.
"A groundbreaking for CAP is currently scheduled to take place on Oct. 14, 2021," Haupt said." Our first bid package includes site utilities, concrete and structural steel. The second bid package will include the remaining scope of work, designed to allow construction to begin at the Ewigleben Sports Complex this fall."
Contractors razing Vandercook and Taggart residence halls completed their work ahead of the 2021-22 academic year.
"The Taggart Hall site is ready to become a green space, with a drainage system, new sidewalks, along with fresh subsoil, topsoil and seeding," Haupt said. "The former footprint and land around Vandercook Hall are prepared for CVL construction activities, and with our initial construction authorization received from Lansing, contractors will begin their work shortly after Labor Day."