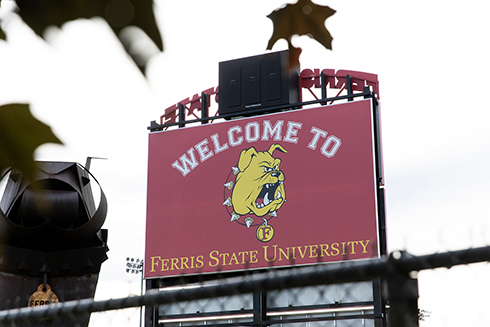 Ferris State University is among the 30 institutions joining 29 other two-and four-year partnerships in the first two Intensive cohorts.
The Aspen Institute College Excellence Program (Aspen) and the American Association of State Colleges & Universities (AASCU) Division of Academic Innovation and Transformation today announced the selection of Ferris State University to the inaugural two cohorts of the Aspen-AASCU Intensive: Transfer Student Success and Equity.
The 30 institutions join 29 other two-and four-year partnerships in the first two Intensive cohorts. Ferris, through its partnership with Grand Rapids Community College, was selected from an applicant pool of 97 institutions and three systems from 24 states, representing a total enrollment of over 1.3 million undergraduate students.
"We are pleased to collaborate with Grand Rapids Community College, as they have been a terrific partner of ours for many years. We look forward to working with President Bill Pink and our colleagues at GRCC to enhance transfer between our institutions," said Ferris President David Eisler. "Making this transition seamless promotes student success and will create educational opportunities for even more students."
The Intensive, funded by Ascendium Education Philanthropy, is a one-year initiative of monthly sessions designed to support partnerships between community colleges and AASCU members in advancing the practices and policies associated with improved, more equitable transfer student success.
Ferris joins a community of practice focused on transfer and equity, one-on-one consulting with experts, and work to identify, collect, understand and utilize critical transfer outcomes and equity data.
"The Aspen-AASCU Transfer Intensive provides Ferris with an opportunity to build upon our relationship with GRCC with a clear path forward, and one that provides guidance, outcomes and benchmarking of our efforts," said Bobby Fleischman, Ferris' provost and vice president for Academic Affairs. "Ferris remains as committed as ever to strengthening its partnerships with Michigan's community colleges to create even greater access to quality education for students across our state."
For a full list of selected institutions, please visit https://highered.aspeninstitute.org/transfer-intensive/. Institutions interested in future cohorts may contact the Aspen Transfer Intensive team, led by senior program manager Heather Adams ([email protected]).
######
The Aspen Institute College Excellence Program aims to advance higher education practices and leadership that significantly improve student learning, completion, and employment after college — especially for the growing population of students of color and students from low-income backgrounds on American campuses.
The AASCU Division of Academic Innovation and Transformation (AIT) supports member institutions in their mission to prepare students to lead productive and fulfilling lives. Driven by an understanding that today's colleges and universities need to prepare students for work, life and citizenship in local, national and global contexts, AIT's programming focuses on four key areas: civic engagement, international education, student success and teacher education.