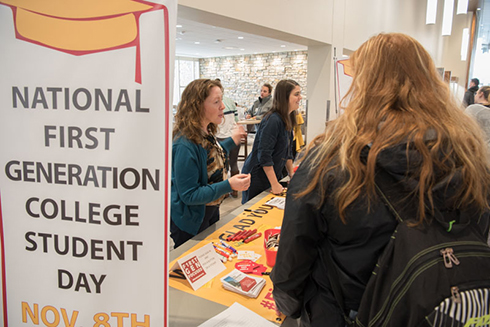 In recognition of National First-Generation Student Celebration Week, Ferris State University has planned a series of activities and events to celebrate and better serve first-generation college students.
National First-Generation Student Celebration Week, an intentional effort to benefit first-generation college students, is behind a series of events and activities, Monday, Nov. 8 through Friday, Nov. 12. A Ferris State University workgroup of faculty and staff members is leading the on-campus effort celebrating these students behind this on-campus effort.
David McCall is the director of First-Generation Initiatives in Ferris' College of Retention and Student Success. He said Ferris is one of 12 recipients of a 2021 First-Gen Forward Advisory designation from NASPA, Student Affairs Administrators in Higher Education, as supported by The Suder Foundation, a Plano, Texas-based philanthropic organization. McCall said Ferris joins the University of Michigan as the state's advisory institutions.
"We know that, at minimum, 24 to 25 percent of our student body are the first members of their families pursuing a bachelor's degree," McCall said. "We have a voluntary student survey for admitted students that attempts to address this status. It is our hope we can be more deliberate and intentional about learning of our First-Gen students as soon as they are on their way to becoming a Bulldog."
McCall said there are a variety of campus advocates who give of their time to identify, work with and develop programming for these students.
Also serving on the First-Gen Workgroup are:
Kaylee Burke, executive director of the Center for [email protected] Studies
Angela Buys, College of Business advisor
Sharon George, director of Student Academic Affairs, COB
Emmanuel Jadhav, assistant professor of Public Health
Fran Rosen, collections strategies librarian, FLITE
Cindy Smith, education counselor, College of Retention/Student Success and
Patrick Weisgerber, coordinator of the TIP/Thompson Scholars program, RSS
"We are happy, through this collaborative group, to offer these students support they might seek in becoming acclimated at Ferris so they can succeed in their pursuits and make connections and know they are an important and valued community on campus," McCall said. "There is a first-gen registered student organization, which is promoted through tabling at events like Founders Day and other key gatherings, who hope to identify and reach out to their peers."
McCall added the College of Retention and Student Success has built an online presence for the First-Gen student group. The 2021 first-gen celebration, which includes events on campus and in Big Rapids, can be reviewed.
"We were one of the first schools in the nation to participate in the National First-Generation College Student Celebration, in 2018, which was set for Nov. 8, the date that the National Education Act was signed into law in 1965," McCall said. "We expanded our celebration to a week-long event the next year. We hope everyone with an interest in first-gen students will check out the website. It is designed to be a 'one-stop shop' for this student group, with many aids to navigate our campus and departments."
Finally, the First-Gen Workgroup and Ferris' Advancement staff are collaborating to fund a First-Generation Student Scholarship. McCall said he would welcome any opportunity to connect with those interested in establishing and supporting this resource for first-generation students.
"These students have the ability and desire to succeed in their pursuit of a degree, so we intend to help them achieve their goals without the burden of significant debt as they begin their careers," McCall said. "Those interested in learning more about this opportunity are welcome to contact me for more information."